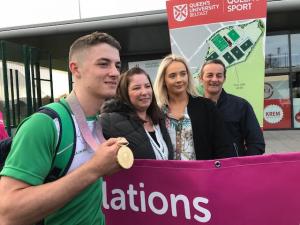 Gold-medal-winning gymnast Rhys McClenaghan with his parents and girlfriend
Q Radio News
Northern Ireland's Commonwealth Games heroes arrived home last night with a record medal haul, and promised family and friends greeting them in Belfast, it's just the beginning.
Golden boy...Team NI Commonwealth Games gold medal winner @McClenaghanRhys and all the other Northern Ireland stars greeted by family and friends back in Belfast pic.twitter.com/NkOgxMOpQM

— Q Radio News (@qnewsdesk) April 17, 2018
Team NI claimed 12 medals on the Gold Coast in Australia - the best ever at a Games held on foreign soil.
There were seven silver and four bronze to add to the glorious gold won by gymnast Rhys McClenaghan.
His mum Tracy told Q Radio News the whole family have been on cloud 9 since the big win.
.@McClenaghanRhys proud as punch parents Tracy and Danny and @GoTeamNI homecoming Queen Rebecca - girlfriend of King Rhys - are also pretty happy about his sensational success Down Under! @GC2018 Commonwealth Games #RhysOneOfOurOwn pic.twitter.com/Nh1mtvXx2F

— Q Radio News (@qnewsdesk) April 17, 2018
@GoTeamNI homecoming @McClenaghanRhys tells @goQradio @qnewsdesk how it feels to take on the best in the world @GC2018 Commonwealth Games - and show them how it should be done! #RhysOneOfOurOwn pic.twitter.com/r6jQZ7mXiH

— Q Radio News (@qnewsdesk) April 17, 2018