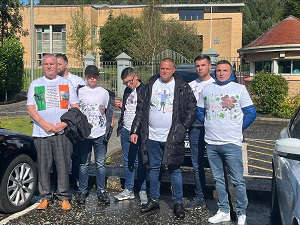 Jonathan McCambridge and Claudia Savage (PA)
The widow of a man killed following a "brutal and savage" attack has said her husband was her "entire world" after a couple were sentenced in relation to his killing.
Father-of-four Patrick Ward, who was originally from Co Sligo, died after being seriously assaulted with a number of weapons before being stripped and dragged into an alleyway and left to die in Clogher, Co Tyrone, in February 2019.
At Dungannon Crown Court, Niall Cox, 28, of McCrea Park in Clogher was told he must serve at least 20 years in prison for the murder before he can be considered for release.
Karen Marie McDonald, 37, of the same address, was sentenced to 10 years for manslaughter, with five years to be served in custody.
Cox had initially denied murder but later changed his plea, while McDonald was convicted of manslaughter at trial earlier this year.
Mr Ward's widow Ellen and parents were in court for the sentencing hearing.
His children and members of the extended family were also present outside Dungannon Crown Court wearing t-shirts calling for justice to be served for Mr Ward.
In a statement, Mrs Ward said her husband's death will haunt her forever.
"Pat was my husband, and my entire world.
"He was the most loving family man, who simply idolised our four children: Tom, Leonie, Chanara and Pat Junior," she said
"When Pat was murdered, my life was shattered.
"I lost the love of my life, and the way in which he died will haunt me forever.
"I can't begin to understand how anyone could inflict such brutality, such cruelty, upon another living being.
"Our children were so young when Pat's life was taken, Pat Junior was just a baby.
"They have been left to grow up without their father.
"We're trying to get on with our lives, but it honestly breaks my heart that Pat isn't here.
"He won't be around to see their birthdays and to celebrate each Christmas.
"He isn't here with me to watch them grow up.
"I am relieved that today's sentence has finally been passed, and I'm truly grateful to all who played a part in the process.
"But it won't of course bring my husband back."
Speaking outside the court, Mrs Ward added: "I really cannot put into words how difficult this has been."
She stated that she felt justice had been served in relation to Cox's sentence, and of McDonald's sentence she said: "She shouldn't be allowed to walk the streets again around decent people."
Mr Ward's son Tom Ward said his father was "loving and caring", while his daughter Leonie Ward described him as "funny".
Outside the courthouse PSNI Detective Inspector Claire McGarvey said Mr Ward's wife and children had been "robbed of their loved one in this most brutal and senseless attack."
"Thanks to our investigation team, and working in partnership with our colleagues in the Public Prosecution Service, the defendants have now been held accountable for their actions," she said.
"While I hope today's outcome offers the family some degree of closure, I'm mindful that it won't take away their heartache or sadness.
"Their worlds have been torn apart, and my thoughts and that of the team are with them."
Addressing Mrs Ward during the sentencing, Mr Justice Stephen Fowler said he had been moved by her statement to the court.
He said: "What you have had to cope with would break many people.
"You were left with four children between the ages of 11 and 14 months when Patrick was murdered.
"I can only imagine how difficult this was and still is for you."
Turning to the facts of the case, the judge said Patrick Ward had been "savagely attacked" in McDonald and Cox's home in the early hours of February 9 2019.
He said that the victim had been beaten, kicked and stabbed and had died of numerous severe injuries.
Mr Ward had suffered a bleed to the brain, multiple stab wounds and three fractured ribs and had head injuries consistent with being hit with a heavy object.
The judge said CCTV footage had shown Cox dragging Mr Ward from his house, originally accompanied by McDonald, before disappearing into an alleyway.
Mr Justice Fowler said the pathologist in the case had determined the victim was still alive when he was dragged into the alleyway.
He said he was satisfied Cox had involved himself in a "brutal and savage" attack on Mr Ward using a variety of weapons.
The judge added: "The viciousness and persistence of the attack satisfies me that it was his intention to kill Mr Ward."
Turning to McDonald, the judge said she had been found not guilty of murder but convicted of manslaughter.
He said he could not be satisfied she had taken part in the assault on the victim, but said she had been in close proximity as the victim was dragged out of the house.
He said her evidence to police that she had lifted Mr Ward's legs as he was being dragged so he could walk home was a "pathetic lie".
The judge added: "It is to her shame while she was in her house she did nothing to assist Mr Ward.
"She could have called the police or the ambulance.
"She showed a callous and a supreme indifference to this dying man's plight."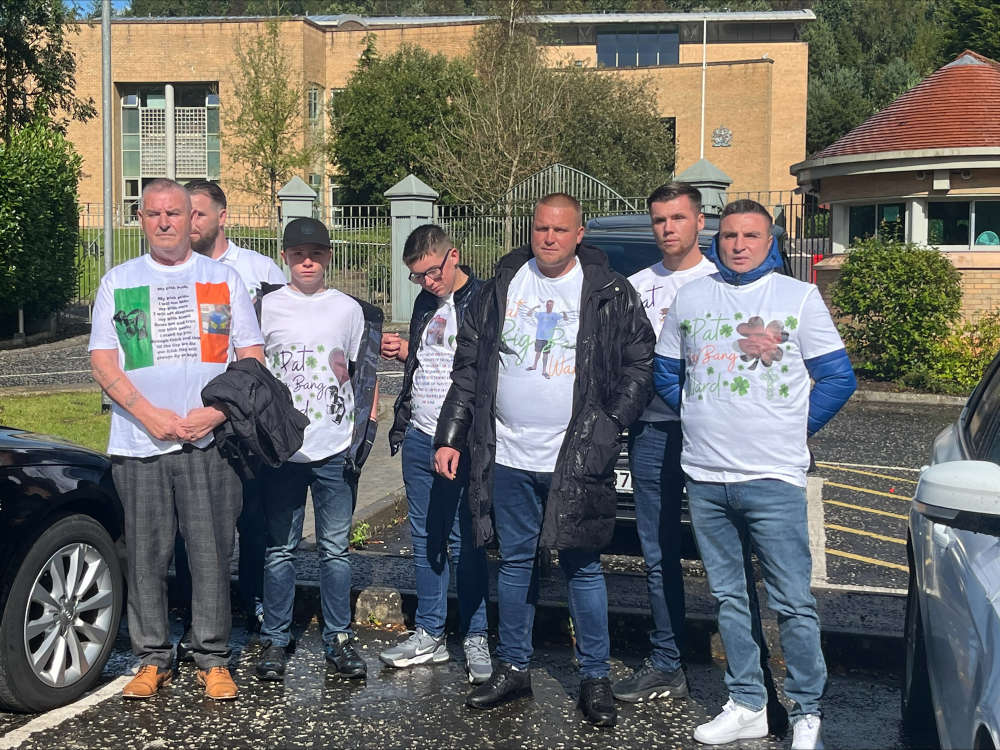 Relatives of Patrick Ward outside Dungannon Court House, Co. Tyrone (Photo by PA)