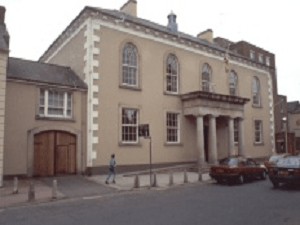 Enniskillen Magistrates Court
By Q Radio News
The first person to be charged as part of the Fermanagh sexual abuse investigation has died ahead of trial.
James Balmer (85) from Cherryville, Enniskillen was accused of five counts of indecent assault on dates between 1988 and 1990.
These involve four counts against one male and a single count against another.
He previously appeared before Dungannon Crown Court and pleaded not guilty to all charges.
Prior to that, defence lawyers sought a short delay of proceedings having encountered a number of issues, including mental health concerns.
A psychiatric assessment was carried out which found Balmer fit to stand trial.
The case was expected to be heard at trial next year however the matter was brought into court lists today (Thursday) during which a prosecuting barrister advised Balmer had passed away.
Judge Brian Sherrard QC said there are formal procedures to be followed in these circumstances, which will see the charges fall away and the case closed.
That is expected to be concluded within two weeks.
When Balmer first appeared before Enniskillen Magistrates Court in May, the judge threw out an application to ban press from reporting his identity, with the defence claiming his rights "trump" those of media."
However it was decided the grounds for anonymity were not met and such an order was "not justified."