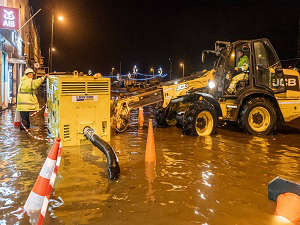 By Q Radio news
Thirty thousand customers are still without power in the Irish republic in the wake of Storm Barra.
Western and northwestern counties are worst affected.
ESB Networks' crews have been working since early morning to restore power across the country with more than 30,000 customers currently impacted.
While poor weather conditions may hamper repair in some areas, ESB Networks is doing everything it can to restore power as many of these customers as possible by the end of today.
Following further strong winds overnight, counties along the western seaboard from Donegal to Kerry have been most impacted.
30,000 customers remain without power in the republic following Storm Barra.https://t.co/ht2CtAZRcr

— Q Radio News (@qnewsdesk) December 8, 2021
Due to the severity of the damage, some customers may be potentially without power into tomorrow Thursday.
It is very important that any impacted customers who use electrically powered medical devices contact their healthcare professional to make alternative arrangements if necessary.
ESB Networks reminds the public that if you come across fallen wires or damaged electricity network, never, ever touch or approach these as they are LIVE and extremely dangerous
In addition to safety procedures associated with power restoration, crews continue to work under all national Covid-19 protocols with respect to hygiene, social distancing and PPE.