Q Radio Sport
Sion Swifts can move three points clear at the top of the Danske Bank Women's Premiership tonight.
They take on Derry City in a North West derby in Strabane (8pm).
It's the only league fixture with the programme curtailed due to international call-ups.
Meanwhile, this Friday will see the kick-off of the 2020 Electric Ireland Women's Academy League.

NIFL formed the league last year to provide a pathway for the best Under 19 players to progress into the top division of women's football in Northern Ireland.

The league consists of six clubs; Cliftonville Corinthians, Crusaders Strikers U19, Derry City Ladies U19, Glentoran Women Reserves, Linfield Ladies Swifts and Sion Swifts Ladies U19, with with a combination of competitive games, dedicated development days and learning opportunities included throughout the season calendar.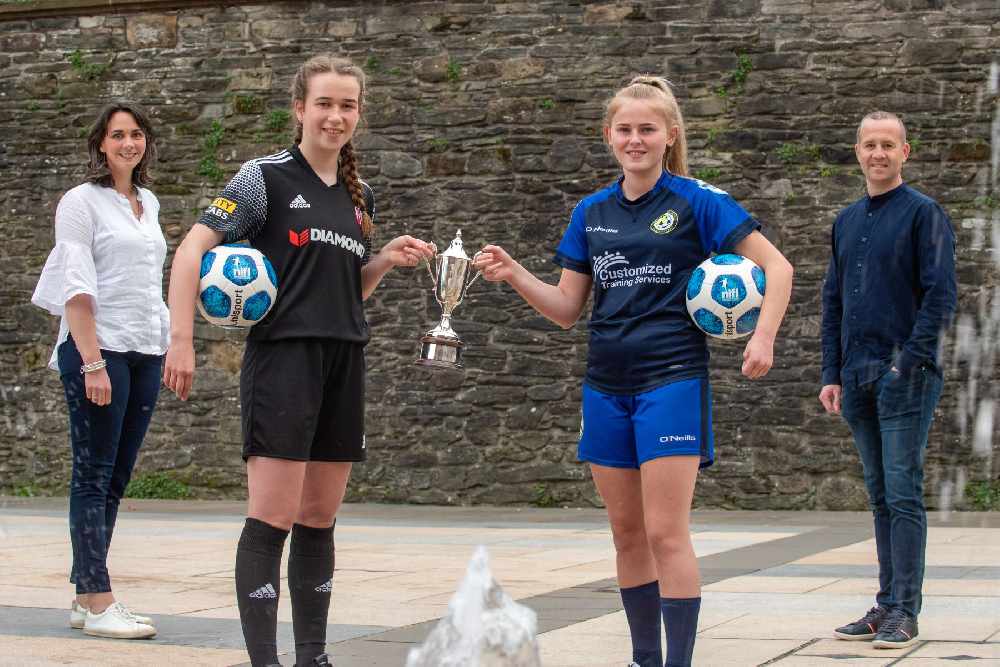 Katelyn Doherty, Derry City Ladies U-19 (left) and Cora Chambers, Sion Swifts Ladies U-19 will meet on Friday in Strabane as the Electric Ireland Women's Academy League gets underway. Also pictured, Anne Smyth, Electric Ireland, and Steven Mills, NIFL.
Andrew Johnston, Managing Director of NI Football League said he is delighted the Electric Ireland Academy League is able to go ahead; "The League got off to a flying start in 2019 and it is our aim to maintain the momentum of the remarkable growth in the women's game in recent seasons. The Women's Academy League is a very important stage in the development of players and provides a clear and direct pathway into the Women's Premiership. We are extremely pleased that the season is going ahead and we must offer our thanks to Electric Ireland whose ongoing support is vital to the growth of our member clubs and leagues."
Commenting, Anne Smyth Northern Ireland Sponsorship Lead, Electric Ireland said: "The Electric Ireland Women's Academy League is important to our shared objective of enabling the talent of the future to be true game changers. We know that over recent months players have been working hard to keep up their fitness levels and that they are keen to get back on the pitch. I, like so many others, look forward to watching the teams' progress as the season gets underway."

The new league will benefit from Electric Ireland Game Changers campaign, which includes initiatives with the Irish FA such as the Electric Ireland "Excellence" and "Shooting Stars" Programmes, which aim to change the landscape of female sport in Northern Ireland and encourage participation and elite opportunities for local players. The initiatives are helping sow the seeds of future success and creating an environment in which female sporting achievements are nurtured and celebrated at every age throughout a player's development.

The Electric Ireland Women's Academy League kicks off on Friday 18th September with the first fixtures as follows: Crusaders Strikers U19 v Linfield Ladies Swifts, Glentoran Women Reserves v Cliftonville Corinthians and Sion Swifts Ladies U19 v Derry City Ladies U19.