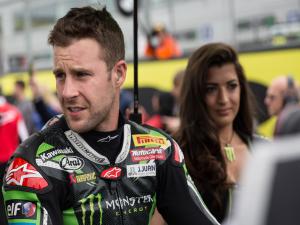 By Q Radio Sport
Five times World Superbike Champion Jonathan Rea says he won't be retiring just yet as he prepares for the 2020 season in Australia.
The 32 year old Ballynure rider heads to Spain next week to begin the build up for what will hopefully be his sixth world title.
Today he was in Belfast for the Arenacross For Schools' initiative at the SSE Arena.
Five times World Superbike Champion Jonathan Rae says he won't be retiring just yet as he prepares for the 2020 season in Australia. Today he was at the SSE arena in Belfast for the Arenacross For Schools Initiative. @SSEBelfastArena @ArenacrossUK pic.twitter.com/K9Xr7BfbvT

— Q Radio News (@qnewsdesk) January 15, 2020
175 lucky primary school pupils were the first to see the hallowed Arenacross track in The SSE Arena earlier today.
They also got to speak to Jonathan, as well as a whole host of Pro Motocross and Freestyle MX riders.
🎥@grainne555 has been speaking to 5 x world superbike champion @jonathanrea for the launch of @ArenacrossUK in Belfast. 200 local school pupils also attended the event. Jonathan says Arenacross is where his career kicked off. pic.twitter.com/E7SxPVzwtF

— Q Radio News (@qnewsdesk) January 15, 2020
Q Radio are proud media partners of the event.
For those who haven't been to Arenacross, it's three action-packed hours of seat-grabbing family entertainment from the world's craziest indoor Motocross racers and Freestyle MX stars! Witness bar-bashing, knuckle- to-knuckle, non-stop racing on a purpose-built dirt battlefield, skilfully sculpted to offer the best birds eye view of the action, wherever you're seated.
Then there's the insane bunch of Freestyle Motocross mavericks who launch both man and machine some 60' above the arena floor, with a single-minded determination to entertain the crowd.
Tickets are still available by booking via https://www.ticketmaster.co.uk/arenacross Arena doors will open at 6pm, with the opening ceremony getting underway at 7.30pm. #AXUK #AX2020
🎥 Former British motorcross Graeme Irwin attended the Arenacross for Schools initiative at the @SSEBelfastArena earlier, which was attended by around 200 local school pupils. He'a taking part in @ArenacrossUK this weekend in Belfast. pic.twitter.com/B1e4Y2DU6B

— Q Radio News (@qnewsdesk) January 15, 2020
Following a successful first year, Europe's leading action sports show The Arenacross Tour, once again delivered 'Arenacross For Schools' to hundreds of school children ahead of the opening rounds at The SSE Arena, Belfast on January 17th and 18th with Jonathan Rea, five time World Superbike Champion supporting the initiative.
Ballymacash Primary School, St Aloysius Primary School, Omagh County Primary School and St. Cillian's National School in Dublin made their way to the W5, Ireland's award-winning Science & Discovery Centre for a dirt filled educational day.
The unique field trip is linked to project partners STEM (science, technology, engineering and mathematics) which works to educate young people and give insight into alternative career opportunities. The 200 plus students witnessed exclusive behind the scene tours and talks from the makers of the AX Tour. During the day, the Fix Auto UK Freestyle Motocross Team gave a private show featuring flips, whips and a taster of the tricks they will performing this weekend.
Thousands of tons of dirt were being delivered into The SSE Arena, Belfast in readiness for the construction and production crew to turn the home of Belfast Giants into a dirt playground. As part of the experience, riders and supporters of the AX Tour, namely Jonathan Rea who attended last year, were there to give expert advice on what it takes to make it in the sporting world as well as an insight into his successful career. He was joined by multiple national Motocross Champion Graeme Irwin, Etec Apico CCM Racing's Stuart Edmonds as well as youth hero's Charley Irwin and Lewis Spratt. Amongst the riders will be the 65cc rider Jordan Kinsella, his school St. Cillian's will be attending, a proud moment for the 38-pupil school.
To top it off, the youngsters were invited to sit ringside and enjoy the opening round of the 2020 Arenacross Tour at The SSE Arena, Belfast this weekend.
The 2020 Arenacross Tour dates are;
The SSE Arena, Belfast – Friday 17th January
The SSE Arena, Belfast – Saturday 18th January
Resorts World Arena, Birmingham – Friday 31st January
Resorts World Arena, Birmingham – Saturday 1st February
The SSE Arena, Wembley – Friday 21st February
The SSE Arena, Wembley – Saturday 22nd February