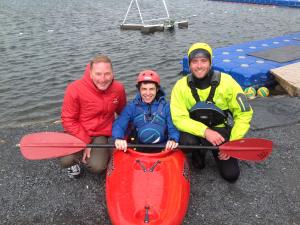 By Simon Hunter
It's little over a month until Northern Ireland's north coast- namely Portrush- brings top level surf kayakers from the four corners of the globe.
The World Surf Kayaking Championships are expected to draw around 150 competitors from around the world, including the likes of the US and Australia.
Organised by The Canoe Association of Northern Ireland, the event is supported by Causeway Coast and Glens Borough Council.
The location- East Strand Beach.
The impressive coastline is home to NI's former World Surf Kayaking Champion, Andy McClelland.
Q Radio's Simon Hunter went down to Knockbracken Reservoir for a masterclass, given by Andy, Club & Workforce Manager CANI Roger Hamilton, and Ulster team coach Marty McCann.
Thankfully the rain stayed away, and the morning involved a fair bit of fun navigating the course, just outside of Belfast!
Given the relatively low profile of the sport, Andy explains how the participation levels keep on going up.
Ulster team coach, Marty McCann, told us about the preparation as the competition edges ever closer.
The dates for the event are the 20th-28th October.