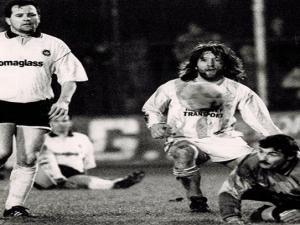 Still regarded as the youngest ever winner of the Irish Cup with Ballymena United, Smyth passed away at the age of 53 on Christmas Day

Former Ballymena United footballer Davy Smyth has passed away aged 53

Still regarded as the youngest ever player to win the Irish Cup, he was part of the legendary Ballymena United team who won the 1981 cup final against Glenavon, aged just 17. It was only Smyth's third game for his hometown club having previously made his debut three weeks earlier for Alan Campbell's team.
Despite appearing for the Sky Blues against AS Roma at the Showgrounds in the European Cup Winners' Cup in September 1981, the young midfielder found opportunities limited at Warden Street and was to Larne in November 1981.
Smyth went onto make over 250 appearances for the Inver Park men over seven seasons and became a key part of Larne's golden era of success winning the Ulster Cup in 1987 and playing in two Irish Cup finals in 1987 and 1989, the latter against Ballymena United.
Following the 1989 Irish Cup final, Alec McKee brought the popular long-haired midfield dynamo back to the Braid for three seasons, where he was soon back in European action, this time against Anderlecht in the Cup Winners' Cup.
Due to work commitments, Davy left the club in March 1992 at the age of 28, having made 92 appearances but never scoring during his two spells at the club. A spell at Chimney Corner followed towards the end of his playing career.
Having been diagnosed with pancreatic cancer in 2015, Smyth had continued playing with the Northern Ireland Veterans team and had also recently returned to Ballymena United for one of the recent Corporate Dinner events.
Ballymena United Football Club passed on their co0ndoloences to the family and friends of Davy at this sad time