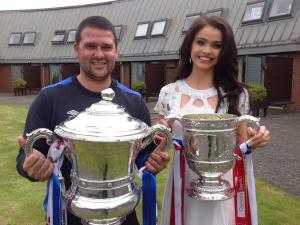 Healy with Miss NI Anna Henry at the NI Children's Hospice
Q Radio Sport
Q Radio Sport has caught up with Linfield manager, Northern Ireland's record scorer David Healy.

He's been speaking about his team's incredible finish to the season when they clinched a league and cup double to add to the Toals County Antrim Shield.

The former Manchester United player also tells us about the prospects of him managing across the water.

And he speaks of his heartache after the bomb attack in the city 'he grew up in' when a teenage starlet at Old Trafford.


Healy on winning the treble in his first full season in charge.


Treble winners 2016/17. David Healy, the backroom staff and the players - take a bow. #COYB pic.twitter.com/11Z07Lrr43

— Linfield FC (@OfficialBlues) May 7, 2017

How did the Northern Ireland legend feel about going from hero to zero with some supporters during difficult early days after becoming the Blues boss? And the 'stick' didn't just come from opposition fans!




When times were tough early on at Windsor, did he ever consider his position?




He's just been named manager of the year and has been described as the secret of the Blues revival, winning their first major trophies for five years. What does he think about the praise being heaped on him?




Despite the success, Healy has already moved to make high-profile signings - Linfield old boy Robert Garrett, Andy Mitchell from Crusaders and former Glentoran and Swindon player Jordan Stewart. But he's still on the look-out for more new recruits. So what about the new faces?
Former Glentoran and Swindon Town attacker @JordanStewart74 has tonight signed for Linfield. Welcome to Windsor Park, Jordan. pic.twitter.com/PRs0wu1eJf

— Linfield FC (@OfficialBlues) May 8, 2017

He likes to set high standards.




Would he ever want to go back across the water, this time as a manager?



The success at Windsor isn't just at senior level - all the Linfield teams through the club were league champions, with one exception - they were runners-up.

Healy says he has been touched by the tragedy in Manchester.




With one season just finished, another is about to begin.

And the record scorer during a UEFA European Championship qualifying campaign is looking forward to the draw for the Champions League qualifiers.




Finally, as a lifelong Linfield fan, 37-year-old Healy admits he's living the dream.