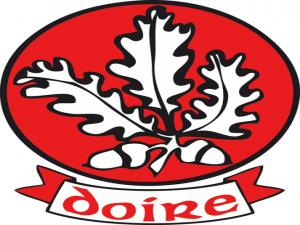 Q Radio Sport
Derry GAA has confirmed former Minor coach Damian McErlain has taken over as the County's new senior football manager.
McErlain steps in to replace Damian Barton, having been handed a three year deal.
The new management team will include Killian Conlan, Gavin McGeehan and former Derry goalkeeper, Barry Gillis.
The County board said: "Over the past decade, through their work with our minor and other underage squads, Damian and his team have demonstrated their ability and commitment to creating an environment which helps players achieve their potential."
"We look forward to working in partnership with the new senior management team as they help progress Derry inter-county football into the future.
Damian McErlain said: "On behalf of myself and the management team, we are delighted and honoured to be entrusted with working with our county's senior footballers for the next three years.
"We are massively looking forward to working with the county's best players and the other stakeholders involved in creating the environment to fulfill the potential that's within Derry football.
"We know the talent that exists within the county and we've developed three strong minor teams to further bolster that. We now need to ensure that we have the right environment for the players to develop further.
"We've a big couple of weeks ahead with the All-Ireland minor final to look forward to, and we'll get down to work with the senior job once that occasion has passed. Until then it's all about Derry minors trying to win an All-Ireland title and nothing else."