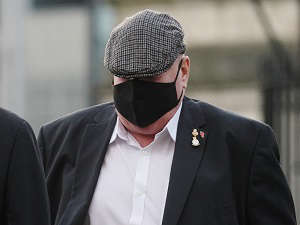 Former Grenadier Guardsman 53 year old David Holden
Jonathan McCambridge (PA)
A former soldier has been given a suspended sentence for killing a man at an Army checkpoint in Northern Ireland more than 30 years ago.
David Jonathan Holden, 53, was sentenced to three years at Belfast Crown Court, but judge Mr Justice O'Hara suspended the term for three years.
Holden was convicted last year at Belfast Crown Court of the manslaughter of Aidan McAnespie in February 1988, the first veteran to be convicted of a historical offence in Northern Ireland since the peace agreement.
Mr McAnespie, 23, was killed in Aughnacloy, Co Tyrone, moments after walking through a border security checkpoint.
He was on his way to a Gaelic Athletic Association club when he was shot in the back.
The McAnespie family said they were disappointed at the sentence, but stressed they did not want a "pound of flesh".
Holden had admitted firing the shot which killed Mr McAnespie, but had said he had fired the weapon by accident because his hands were wet.
But Justice O'Hara said last year he was satisfied beyond reasonable doubt that Holden was guilty of manslaughter by gross negligence.
Members of Mr McAnespie's family were in court for the sentencing hearing.
Aidan's brother, Sean McAnespie, said: "The most important point is that David Holden was found guilty of the unlawful killing of our brother Aidan.
"We are glad we had our day in court. David Holden could have given an honest account of what happened that day but didn't. The judge was clear he had given a deliberately false version of events.
"Not a day passes when we don't miss Aidan."
A representative of a veterans' organisation described the sentence handed down to Holden as "extremely harsh".
Paul Young, from the Northern Ireland Veterans Movement, which campaigns against the prosecution of soldiers who served in the region, said: "We believe that the sentence today was extremely harsh, considering the passage of time and what David Holden has had to go through over the last number of years.
"When you compare this to the Good Friday Agreement and the deals that were struck about terrorists, that they would never serve more than two years if they were convicted of any legacy offence.
"Now we have David Holden convicted for a manslaughter through gross negligence so there is clearly a disparity between terrorists and the security forces that served in Northern Ireland.
"It is a disgrace and should never have happened."
The trial proceeded amid continuing controversy over Government plans to deal with Northern Ireland's troubled past.
The Northern Ireland Troubles (Legacy and Reconciliation) Bill proposals provide an effective amnesty for those suspected of killings during the conflict, if they agree to co-operate with a new body, known as the Independent Commission for Reconciliation and Information Recovery.
The Bill would also prohibit future civil cases and inquests related to Troubles' crimes.
The Holden case is one of a series of high-profile prosecutions of veterans that have been pursued in Northern Ireland in recent years.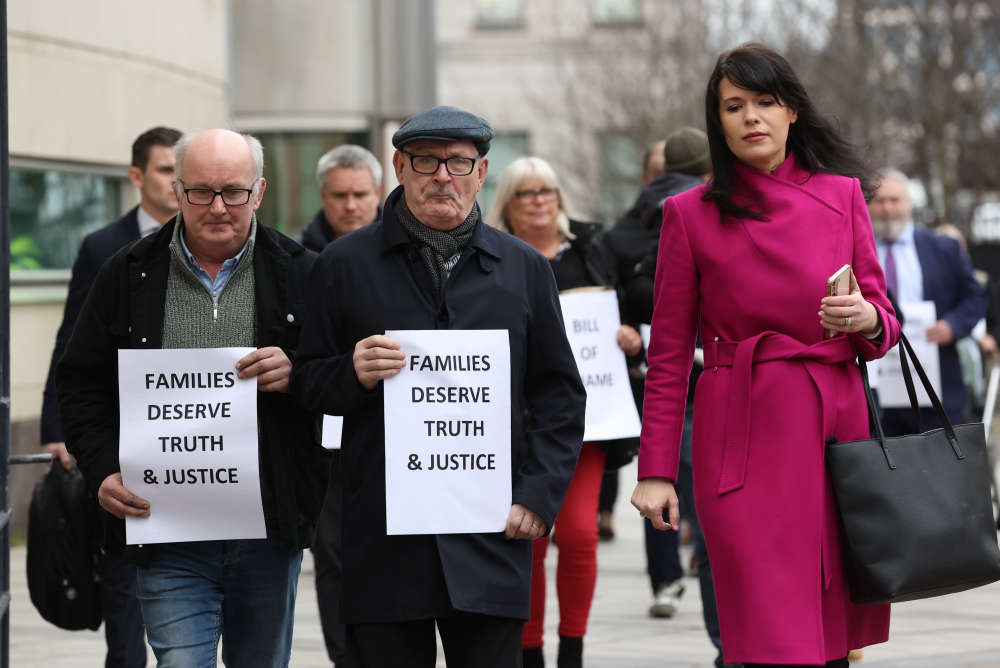 Sean McAnespie (centre), the brother of Aidan McAnespie, and Grainne Teggart (right) from Amnesty International outside Belfast Crown Court after former Grenadier Guardsman David Holden was given a suspended sentence of three years for the manslaughter of Aidan, who was shot in the back at an army checkpoint in Northern Ireland in 1988 (Photo by PA)