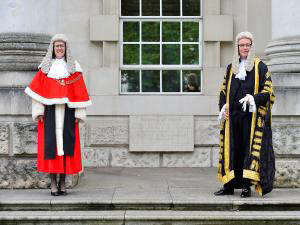 By David Young, PA
Northern Ireland's first female chief justice has expressed hope her appointment will demonstrate that anyone can strive for top judicial positions.
Dame Siobhan Keegan said it was an "immense privilege" to become Lady Chief Justice.
Dame Siobhan formally opened the new legal year in Northern Ireland on Monday at a ceremony in Belfast attended by Lord Chancellor and Justice Secretary Robert Buckland.
Northern Ireland's first female chief justice has expressed hope her appointment will demonstrate that anyone can strive for top judicial positions.https://t.co/h8BpuRkU0H

— Q Radio News (@qnewsdesk) September 6, 2021
The Lady Chief Justice said she encouraged all those who are sufficiently qualified to consider the judiciary as a career.
"This should ensure that we have a diverse judiciary reflective of our society as I consider that another important aspect in the promotion of justice," she said.
"I am conscious that my appointment marks a change in terms of leadership in senior office. I hope that it will demonstrate that judicial office including the most senior post is achievable for all, women and men, and those from a range of backgrounds, on the basis of merit."
Dame Siobhan was appointed a High Court judge in October 2015 and has served as vice chair of the Bar of Northern Ireland, chair of the Young Bar, chair of the Family Bar Association, chair of the Bar Charity Committee and was a long-standing member of the Bar Professional Conduct Committee.
She was appointed as a coroner in July 2017 and was presiding coroner for Northern Ireland from September 2017 to September 2020.
In her address at the Royal Courts of Justice, she spoke of the need to tackle lengthy delays within the region's legal system.
Covid-19 has heaped further pressure on a court system that was already struggling to process cases in timely fashion.
A huge backlog of hundreds of crown court cases built up during the pandemic – with 50% of cases not heard.
"There are significant numbers of trials to be heard and delay can be so detrimental to those involved," said the Lady Chief Justice.
"While many other areas of business have been able to recover, the time lost within the crown courts creates a challenge for us all. While jury trials recommenced across the province in September 2020, it was April 2021 before we were back to the same levels of jury courts pre-Covid."
She said the challenge of addressing the backlog could not be underestimated.
"While there is a shared commitment and funding has been provided, we cannot be complacent and the current momentum must be maintained," she said.
Dame Siobhan said she wanted to place an emphasis on reaching more early resolutions to cases.
She said she also wanted to build on technology utilised through the pandemic to facilitate remote working and hearings.
"The methods we have utilised are not replacements but we have to modernise and so I believe in a complementary approach and ongoing consideration of making our systems more accessible and user friendly," she said.
In conclusion, she said: "Taking on the role as head of the judiciary in Northern Ireland is an immense privilege. I have as my guide the rule of law. I will strive to do all I can to ensure our high professional standards are maintained, that our independence is respected and that we engage, listen and play our part in the delivery of the administration of justice for Northern Ireland."
Dame Siobhan delivered the ruling earlier this year that the 10 people killed in the west Belfast shootings involving soldiers in Ballymurphy in August 1971 were "entirely innocent".
She attributed nine of the 10 shootings to the British Army and said the use of lethal force by soldiers was not justified.
Lord Chancellor Mr Buckland stressed the importance of diversity within the judiciary.
"Now for the very first time, the office of Chief Justice of Northern Ireland is held by a woman," he said.
"Of course, Lady Hale blazed a trail as president of the UK Supreme Court, but this is a poignant moment because it is the first time that a woman has led the judiciary on behalf of any nation within the United Kingdom.
"It has been a long journey – from when the first chief justice of Northern Ireland, Sir Denis Henry, was appointed in 1922 to when Sheelagh Murnaghan was the first woman called to the Northern Ireland Bar in 1948 – and I was honoured to attend the Lady Chief Justice's swearing-in ceremony, albeit virtually, last week.
"It is not just a proud moment for her, but for each of us – that what qualifies a person to lead the judiciary in our country today is nothing more and nothing less than the content of their career in the law and the breadth of their experience both in practice and on the bench. These are what make a great chief justice and I know that Dame Siobhan will be a wise and able steward of the judiciary here in Northern Ireland.
"But while we can take pride in Dame Siobhan's swearing-in, we must keep up momentum to ensure that other appointees from hitherto under-represented groups are able to follow rapidly in her footsteps. I look forward to attending the swearing-in ceremonies of increasing numbers of women, members of ethnic minorities and other under-represented groups to senior judicial positions across the United Kingdom.
"My hope is that we can work towards a future where diversity is embedded right across the justice systems of the United Kingdom. By doing so and raising visibility of hitherto under-represented groups, we can ensure that people from all backgrounds feel that they are an active part of the justice process – that they too have a stake in how justice is done. This is just one of the ways that we can make the system as fair as possible."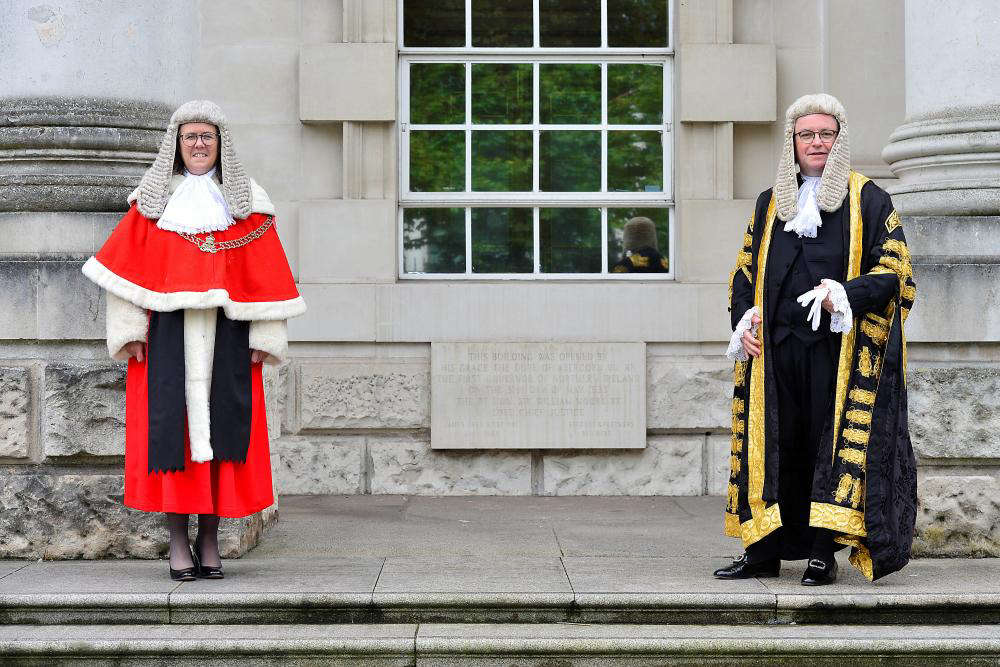 (Lord Chancellor and Justice Secretary Robert Buckland with Northern Ireland's first ever Lady Chief Justice Dame Siobhan Keegan)