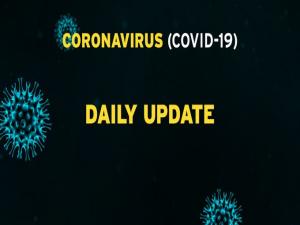 By Q Radio News
Seven further deaths of patients who had tested positive for Covid-19 have been reported in Northern Ireland.
The Department of Health said there had also been 1,232 new confirmed cases in the last 24-hour reporting period.
So far, 2,462,140 vaccines have been administered.
NI #COVID19 data has been updated:

📊1,232 positive cases and sadly, 7 deaths have been reported in the past 24 hours.

💉2,462,140 vaccines administered in total.

Vaccines ➡️ https://t.co/Yfa0hHVmRL

The COVID 19 dashboard will be updated on Monday 6 September. pic.twitter.com/bQrNfMp76n

— Department of Health (@healthdpt) September 5, 2021
The death toll here, linked to the virus now stands at 2,410.
Meanwhile,
Vaccine passports are going to be introduced at big venues to avoid winter closures, a minister has told Sky News.
Speaking to Trevor Phillips on Sunday, Nadhim Zahawi said the government wanted to avoid a situation where businesses continually had to open and close their doors at short notice.
The vaccines minister also said that no decision has been made on whether to offer coronavirus jabs to all 12 to 15-year-olds - and he stressed that, if this does happen, parental consent will be required.
His comments came after the Joint Committee on Vaccination and Immunisation (JCVI) decided against backing the vaccination of youngsters on health grounds alone, given coronavirus presents such a low risk to them.
The UK's chief medical officers are currently reviewing the wider benefits of the move, such as reducing school absences.
On the issue of whether healthy 12 to 15-year-olds should be offered a vaccine, Mr Zahawi said: "We have not made any decisions, so we haven't decided not to listen to the experts.
"On the contrary, all four ministers, the secretary of state Sajid Javid and his fellow ministers in the devolved administrations have agreed to ask the chief medical officers to convene expert groups, including the JCVI being in that, to be able to recommend which way we should go."
Pressed over whether parental consent would be sought if approval was given, Mr Zahawi said: "I can give that assurance, absolutely."
The minister also said checking people's vaccine status is the "right thing to do" to ensure the whole economy remains open.