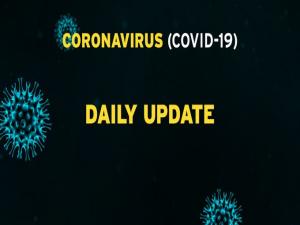 By PA and Sky News
Seven further deaths of patients who had tested positive for Covid-19 have been reported in Northern Ireland.
The Department of Health said there had also been 1,812 new confirmed cases in the last 24-hour reporting period.
So far, 2,459,543 vaccines have been administered.
COVID-19 UPDATE -

7 new Coronavirus related deaths have been recorded here in the past 24 hours.

A further 1,812 new positive cases have also been detected, according to @healthdpt. https://t.co/zgXCe4JCGj

— Q Radio News (@qnewsdesk) September 4, 2021
The death toll here according to the Department of Health now stands at 2,403.
The figures come as Ministers are optimistic that COVID-19 vaccines will be offered to all 12 to 15-year-olds despite advisers failing to recommend it, Sky News understands.
The Joint Committee for Vaccination and Immunisation said on Friday that, while it would widen the programme to include more children in that age group with health conditions, it was not recommending the widespread vaccination of their healthy classmates.
However, sources say the government is keen to offer vaccinations to all children in that age group - and think parents would find it reassuring.
The UK's four chief medical officers, including England's Chris Whitty, have been asked to make a final recommendation - which should come within a week.
The Times reported that the vaccinations could begin as soon as next week.
Earlier on Friday, the JCVI had said that the coronavirus presents only a small risk to healthy children and, therefore, the benefit of being vaccinated was not great enough to support mass vaccination for this age group.
The independent medicines regulator, the Medicines and Healthcare products Regulatory Agency, has approved the Pfizer and Moderna vaccines for those aged 12 and over.
Efforts are already under way to recruit thousands of vaccinators for schools, and Education Secretary Gavin Williamson has previously said he "very much hopes" the under-16s could be vaccinated.
Last month, the vaccination programme was extended to all 16 and 17-year-olds - resulting in 1.4 million teenagers being offered a jab.
Professor Wei Shen Lim, chair of COVID-19 immunisation for the JCVI, said: "The JCVI's view is that overall, the health benefits from COVID-19 vaccination to healthy children aged 12 to 15 years are marginally greater than the potential harms.
"Taking a precautionary approach, this margin of benefit is considered too small to support universal COVID-19 vaccination for this age group at this time. The committee will continue to review safety data as they emerge."
Northern Ireland Health Minister Robin Swann said he agrees the issue of a wider rollout "warrants further consideration".