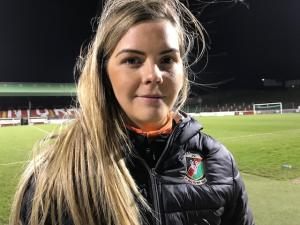 Northern Ireland and Armagh county GAA star Aoife Lennon
Q Radio News
A local sports star has spoken out for the first time about her six-year battle with anorexia - in the hope it will help others suffering from the eating disorder and mental illness.

Northern Ireland international footballer and Armagh county GAA player Aoife Lennon has opened up in an exclusive interview with Q Radio.

She says being diagnosed with the condition while on an extended trip to New Zealand last year has changed her life.

It has helped the 25-year-old from Armagh come to terms with years of mental torment....

Aoife's 52-year-old father passed away when she was just 13.

The teenager was left shocked and devastated.

Now her much-loved dad inspires her each and every day...
Aoife adds: "Losing my father changed my life. I see the positives in it now he gave me the gift of life and 13 precious years of happy and beautiful memories. He has given me the strength and guidance to now carry on and live my life. I am grateful for this and the outlook I now focus on is the special man that he was and that he is always with me. Every moment was happy and that's the way I will always see it now.

"I feel that it's important to remember that you are worth it and deserve to be happy. Recovery may not be easy but it is worth it. Trust your journey and believe in you."

Aoife believes her issues began through words said to her, but as a young girl she felt that the grief from her father also had a part to play.

She now has a message of hope for others struggling to cope and is calling for more resources to be made available to help tackle anorexia.

"Everyone we meet is facing battles we know nothing about...that's the hardest thing but never be afraid to speak out and seek the help you deserve."

Aoife was proud to play for Northern Ireland, but admits trips overseas used to fill her with fear and affected her international career..

Since returning from New Zealand a year ago, the former Newry City captain has signed for Glentoran Women and has also played for the Armagh Harps ladies GAA team.

While sport no longer dominates her life, she aspires to pull on that green international jersey again in the future...
But her ultimate goal now is to help others....
-


Aoife in action for Armagh Harps. Mark Richards, Richies Pics Photography.
-
AOIFE INTERVIEW Q RADIO....
Road to recovery starts on the other side of the world....
Aoife's advice...
More resources needed...
Journey continues...
Away days with NI...
Aoife's inspiration...
The future...
-