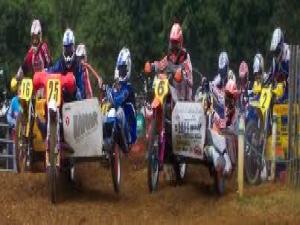 by Q radio news
Lisburn based Gary Moulds with English passenger Steve Kiriwn from Portsmouth topped the podium at the penultimate round of the MAXXIS British Sidecarcross Championships at Canada Heights with a 1-2-5 finish in the three races.
Runners up were third place crew Jake Brown and Zac Snell, while Championship leaders Brett Wilkinson and Josh Chamberlain finished third overall.
This consolidates Gary & Steve's second place in the Championship and slightly closes the gap heading into the last round next week at Foxhills near Swindon, a postponed round from earlier in the year.
Also, in action were fellow Club Members Emma Moulds & Alan Gardner who finished 16th, dnf & 18th in the three races in tricky, wet and rutted conditions after heavy overnight rain hit the scenic Kent track near the Swanley, also scoring well were fellow Lisburn rider Neil Campbell & Craig Parmenter who finished fourth overall on the day.
With the Ulster & Irish Championship in the bag for Gary & Steve, all that's left for them is next week's final round of the British Championships where they have a slim mathematical chance of taking the crown.