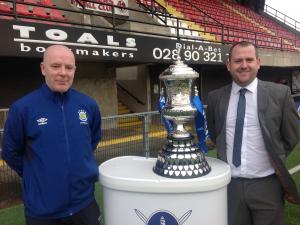 Q Radio Sport
UPDATE: Newington were 1-0 winners against Linfield Swifts - Padraig Scollay with the late goal.
The traditional Christmas morning Toals Steel and Sons Cup final will be between the holders Linfield Swifts and Newington.

The Seaview showdown kicks off at 10.45.

It's the first season in charge for Blues boss David Dorrian...
19-year-old Swifts keeper Alex Moore already has a medal from last Christmas and he's determined to add to his collection on Monday ...
Newington aim to take the trophy for the first time and manager Conor Crossan has a special family reason for wanting to win it.
View the video for his touching story...
j