Q Radio Sport
Glentoran have signed Northern Ireland international Shay McCartan from Ballymena United for what's thought to be an Irish League record transfer fee in the region of £100,000.

The 27-year-old forward was an instant hit at the Showgrounds after joining the Sky Blues from Bradford City last September, scoring 21 goals in his first and only season.

The County Down man ended the year on a high when he was named the final Danske Bank Premiership Player of the Month of 2020/21 for May.
Transfer coup confirmed -

Shay McCartan leaves Ballymena and signs for Glentoran@Glentoran @BallymenaUnited #DanskeBankPrem

Pic: GFC pic.twitter.com/puuK4jBcaf

— Q Radio News (@qnewsdesk) August 2, 2021
McCartan has two full caps for Northern Ireland, having played in friendly matches against New Zealand and Costa Rica.

He made more than 200 first team appearances in the Football League for Burnley, Accrington Stanley, Lincoln City and Bradford.

Glentoran majority shareholder Ali Pour has been speaking about the deal: "Our project has been going for a mere two years and I am excited how far we have come since July 5 2019. Although we all crave instant success it is important to recognise and remember where we have come from if we are to embrace and understand where we are headed. Two seasons is a 'blink' in football, yet I can see the massive developments both on and off the pitch.

"In football it is important not to stand still and although I am happy with our development over the past two seasons, I can never be satisfied. The goal is always to improve and strengthen and the recent additions to our already strong squad clearly show the direction we are headed.

"It is important to recognise the tireless efforts of our players, staff, volunteers and the loyal support of our fans; without these people our Club could not move forward. Our fans have been tremendous, our season ticket sales are at an all-time high and I look forward to many great years ahead with the entire GFC community!"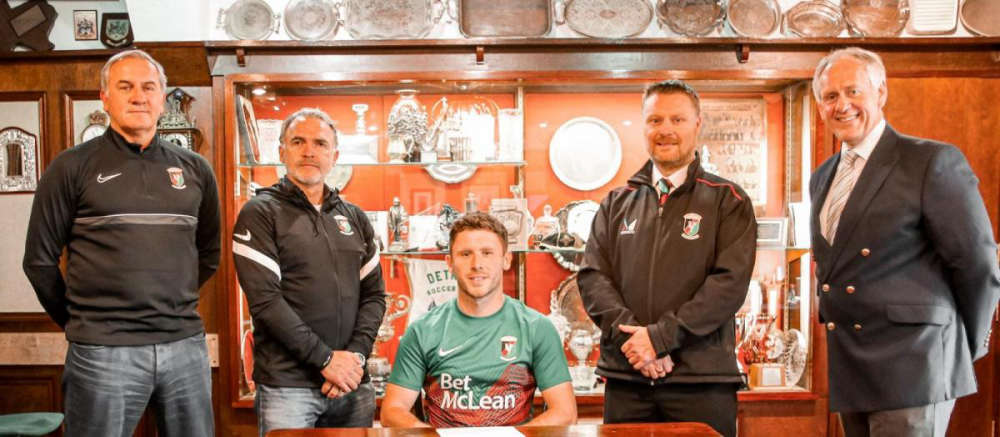 Paul Millar, Mick McDermott, Shay McCartan, Stephen Henderson, Paul McLean
Shay said: "Once I spoke to Mick and Paul and heard the ambitions of the club, I absolutely knew it's something I want to be part of. When I played against the Glens last season it was obvious they were a good team and now I want to play a part in taking things to the next level.

"I'm really looking forward to playing in front of big crowds at the Oval. It's an iconic ground and I was always very conscious of it every time I was going to the airport to go back to England. I can guarantee the Glentoran fans that I'll work hard for the team and make sure I play my part in bringing a lot more success to the club."

Manager Mick McDermott: "I have always said that if good players become available, Glentoran will be in that market. Shay has shown his qualities across multiple seasons in England and last season at Ballymena. There is no doubting his talent. We cannot forget that we started this project only two seasons ago and it is a testament to all involved that we have built such a strong squad and can attract a player like Shay. He will definitely become a key member of our team. We are looking forward to the coming season and thank our fans for the massive surge in ticket sales. I would like to thank David Jeffrey for his professional handling of this transfer."