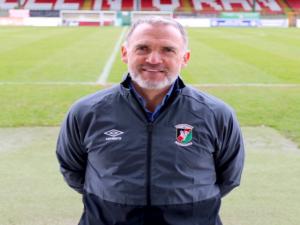 Glens Head Coach Mick McDermott. Pic: Glentoran FC.
Q Radio Sport
Newry City have been relegated from the Danske Bank Premiership.

They lost 1-0 at home to Dungannon Swifts on the final day of the league campaign.

It was Newry's first season back in the top flight and manager Darren Mullen is now targeting a rapid return from the Championship...

🎥 Final #DanskeBankPrem day started with a team set to go down in South Down - key games at Newry & at Warrenpoint. In the end @ArdsFC1900 got point they wanted @thepointfc as @NewryCityAFC lost 1-0 v @DgnSwifts. Relegated, but boss @ncr72 determined they'll be back ASAP... pic.twitter.com/pdTLieM3EK

— Q Radio News (@qnewsdesk) April 27, 2019
Football has a way of kicking you in the teeth but it's times like this you realise that it is also full of good honest people who wish you nothing but good and I thank every one of you for your messages. Our politicians could do worse than to show the same attitude.

— darren mullen (@ncr72) April 27, 2019
Ards drew 1-1 away to Warrenpoint and now go into a promotion/relegation play-off against Carrick or Portadown.
16-year-old Jonah Heron was drafted into the Ards team at the last minute and claimed their goal.
Glentoran clinched the final European play-off place by beating Institute 2-0 at the Oval - Darren Murray and Marcus Kane with the goals.
It completes an unbeaten first month in charge for Head Coach Mick McDermott...
.@Glentoran climb continues as they make European play-offs - after being poss relegation candidates earlier in the season! With an unbeaten 1st month, no wonder Mick McDermott's loving life at the Oval. The Glens boss is on air am @goQradio @qnewsdesk #DanskeBankPrem pic.twitter.com/YG5CPF4j8R

— Q Radio News (@qnewsdesk) April 27, 2019
Glenavon beat Cliftonville 4-0 at Mourneview Park to take third place.
Reds midfielder Ryan Catney was sent off.
Last year's league winners Crusaders finish fourth.
They had a 3-0 win at Ballymena on Saturday, but it's reported the points could be handed to the Sky Blues as "an administrative error" meant David Cushley wasn't listed on the official teamsheet as a Crusaders substitute.
Coleraine and visiting champions Linfield drew 1-1.
TABLES | @NewryCityAFC suffer relegation, @ArdsFC1900 earn another bite of the cherry while @Glentoran book their place in the Europa League play-offs #DanskeBankPrem pic.twitter.com/SaDTXahir4

— NI Football League (@OfficialNIFL) April 27, 2019
📈 | After 32 games, the 'Gers finish 2nd in the #BluefinSptChamp. @Portadownfc will again visit us on Tuesday evening for a pre-playoff game, with the winner on the night then facing Ards in a two-legged battle to determine who will be in the #DanskeBankPrem. #AmberArmy 🔶⚫️ pic.twitter.com/zBNspNuQsS

— Carrick Rangers (@CarrickRangers) April 27, 2019
-