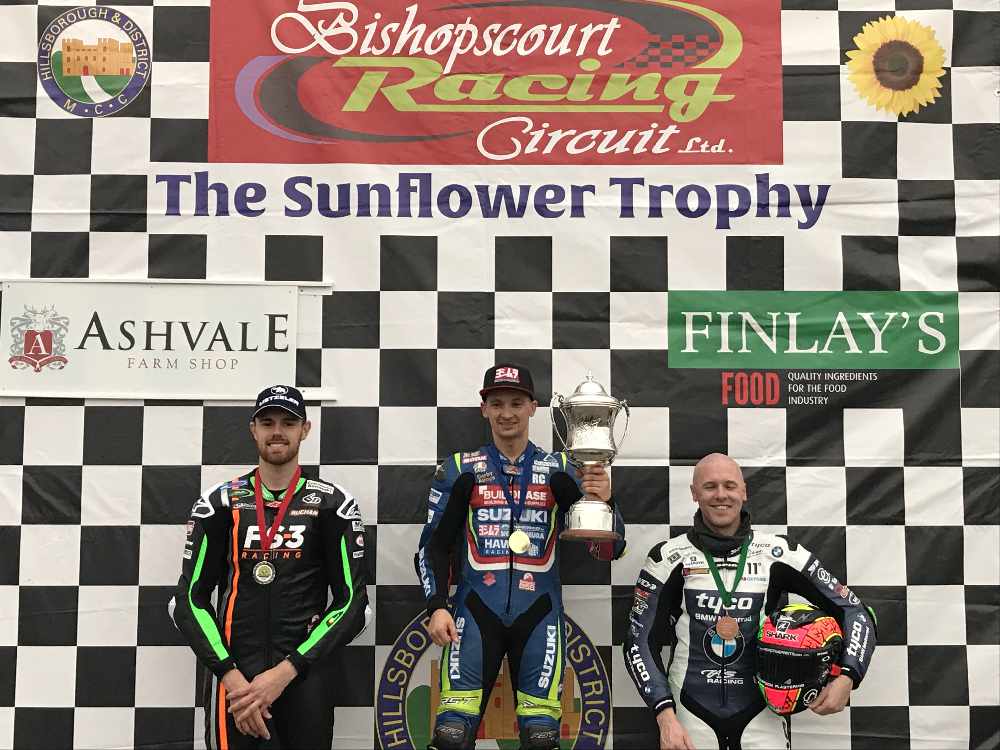 (L-R) Danny Buchan came second; Richard Cooper in first; Michael Laverty in third
Q Radio News
SAT 22nd OCT:
Here's a pick of this afternoon's results:
Moto 3 (125GP) & 250GP - R2: Nutt Travel/ Dunlop Tyres Race One
1. Eugene McManus
2. Christian Elkin
3. Sam Laffins
Young Guns Challenge & Junior Cup - R1: Topcoat Powder Coatings/ Dunlop Tyres Race One
JUN:
1. Johnny Campbell
2. Jamie Lyons
3. Scott McCCrory
YGC:
1.Joshua rae
2. Mark Aiken
3. David Murphy
Supersport - DB Tiles & Bathroom Race One
Robert KENNEDY - WINNER
2. Richard KERR
3. Aaron CLIFFORD
Superbike - AJ Plumbing Supplies Race Two Restart
Richard COOPER - WINNER
2. Danny BUCHAN
3. Michael LAVERTY
_____________________________________________________________________________________________________________________________
FRIDAY 19th OCT:
There were a number of delays on the Bishopscourt circuit on Friday, before the final round of the Ulster Superbike Championship got underway.
Qualifying sessions ran almost all day, held up with numerous red flags and oil spillages on the track.
When the racing did get underway, however, fans were treated to some spectacular motorsport action.
Johnny Aiken took the pre-injection, followed by Johnny Irwin, and Jonathan Gregory in third.
The much-anticipated Superbike Pro 1 Race was next, and saw a win for British Superbike star Richard Cooper.
It was his first time to Bishopscourt.
.@coopes47 is a happy man after winning the Superbikes race this evening at Bishopscourt, on the first day of the Sunflower Trophy, in the final round of the Ulster Superbike Championship! #USBK @qnewsdesk @goQradio pic.twitter.com/WnBaXvU9S8

— Simon Hunter (@simezsez) October 19, 2018
There are still a number of races to be held on Saturday, including Supertwins and Sidecars.
Local star and one of the home favourites Glenn Irwin, told Q Radio why this year is extra special to him.
.@GIrwinRacing says the Sunflower Trophy at Bishopscourt, in the Ulster Superbike Championship this weekend, is poignant this year following the death of William Dunlop. He's come to the County Down circuit with a special purpose in mind. @qnewsdesk @goQradio #USBK pic.twitter.com/5GNr7xKNeg
— Simon Hunter (@simezsez) October 19, 2018
Meanwhile, in the main Sunflower Trophy race, Michael Laverty is keen to keep adding to his tally, which hasn't been updated since 2010.
.@MichaelLaverty is hoping for a seventh Sunflower Trophy crown this weekend, as the Ulster Superbike Championship descends on Bishopscourt, County Down. He's pretty happy to be back in front of the home support! @qnewsdesk @goQradio #USBK pic.twitter.com/yyZ527wMiM

— Simon Hunter (@simezsez) October 19, 2018