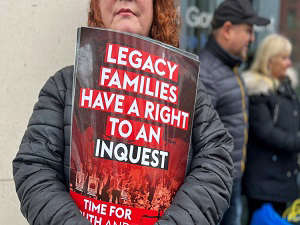 Jonathan McCambridge (PA)
Further Troubles victims in Northern Ireland have announced legal challenges against the UK Government's new legacy legislation.
The victims, who are supported by Amnesty International and represented by Phoenix Law, plan to challenge the new Act over its denial of future inquests and its ban on civil claims.
The Northern Ireland Troubles (Legacy and Reconciliation) Act received royal assent on Monday despite widespread opposition from political parties and victims' organisations in Northern Ireland.
The most controversial aspects of the laws include a limited form of immunity from prosecution for Troubles-related offences to those who co-operate with the new Independent Commission for Reconciliation and Information Recovery and the ending of future civil cases and inquests.
Legal firms Madden & Finucane and KRW Law and victims campaigner Raymond McCord have already announced legal action over the legislation, which Northern Ireland Secretary Chris Heaton-Harris said provides a "real opportunity to deliver greater information, accountability and acknowledgement to victims and families".
The Irish government has also said it is seeking legal advice over taking an inter-state case against the UK Government.
Several victims who had inquests, independent investigations or civil claims pending have backed the latest legal challenge.
Amnesty's Northern Ireland deputy director Grainne Teggart said: "We made it clear that if this Bill became an Act – we would continue to stand with victims and fight against this unacceptable denial of rights.
"The UK Government blatantly shunned victims' rights and pushed through a law only it wanted.
"This heinous act of wrong must not stand; it is now over to the courts to right this historic wrong."
Martina Dillon had been waiting for an inquest into the death of her husband Seamus Dillon, who was shot and killed in 1997.
She said: "Every day my heart aches and yearns for my husband and the trauma of his killing has been exacerbated by this law.
"Truth and justice are not much to ask, we shouldn't have to fight for decades to get it.
"I will fight this oppressive legislation in my husband's memory and in solidarity with other victims having their rights denied. The clock is ticking for victims, we hope the courts will treat this with urgency."
Darragh Mackin, from Phoenix Law, said: "From its inception, international human rights experts have warned the Government that this Act violates rights and fail to put victims at the centre of legacy processes.
"Access to justice is a cornerstone of any democratic society."
John McEvoy was seriously injured and narrowly avoided death during a gun attack in 1992.
He said: "The past is still the present, I narrowly escaped death and live with the impact of that gun attack every day.
"As victims we have been affected in different ways, but we all stand to lose out by this law which grossly denies us our rights, that's why we've come together to challenge it.
"We are determined to get answers and accountability, we won't stop fighting until that happens."
Other applicants in the case are Brigid Hughes, whose husband Anthony was shot in 1987, and Lynda McManus, whose father John McManus was severely injured in the gun attack on Sean Graham bookmakers in Belfast in 1992.