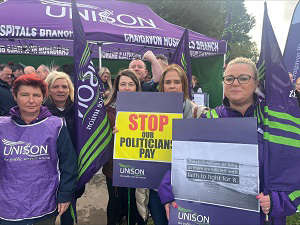 By Claudia Savage (PA)
Midwives in Northern Ireland are having to use food banks to deal with the cost-of-living crisis amid a pay dispute, a union representative has said.
Thousands of healthcare workers have begun day two of a 48-hour strike to call for pay parity with health workers in other parts of the UK, as well as increased funding for health services.
Workers from a number of unions including Unison, Unite and Nipsa, as well as the Society of Radiographers, manned picket lines outside hospitals on Thursday, with the Royal College of Midwives (RCM) joining on Friday.
RCM representative Emma Creagh was with colleagues outside Craigavon Area hospital on Friday morning.
She said: "Unfortunately we're not dealing very well.
"We have midwives that are having to use food banks, we have midwives that are working extra shifts, we are working shifts where we're not getting a break, and at the minute we have no other thing but going on strike."
Ms Creagh said the lower pay for midwives in Northern Ireland meant they were losing staff to other parts of the UK.
She said: "We are training staff to become midwives and then they're going to other parts of the UK to earn their money.
"Why would they stay here if they're earning less money than their counterparts in the likes of Scotland?"
There has not been a devolved government for more than a year as the DUP are boycotting Stormont in protest against post-Brexit trading agreements.
Ms Creagh called for politicians to return to devolution to settle the pay dispute and formulate a maternity strategy.
She said: "We need a maternity strategy, we need the politicians to get back into Stormont and get them the deal that we need.
"We need them to be working for us the same way that we're working for all these people here.
"There's not one woman that is going to be left in any way that they're not going to have a midwife looking after them today, even though we are standing on the picket line, because we will make sure that woman has the care that she needs."
Dawn Emerson, branch secretary for Unison Craigavon Hospital, said: "Our staff are currently feeling very undervalued, they're rushed off their feet.
"We're the lowest-paid within the UK. We were promised, we stood out here four years ago and we were promised then by our health minister that we would never be in this position again. Here we are, the lowest-paid in the UK."
Ms Emerson said her message for Stormont politicians was "get back to work".
She added: "At the end of the day, this is going to continue and we're not backing down until this is sorted, and we want to be paid fairly along with our colleagues in the three nations."
The Department of Health said it understands the "deep-seated frustration" over ongoing pay issues but that it was not able to resolve these due to budgetary constraints.