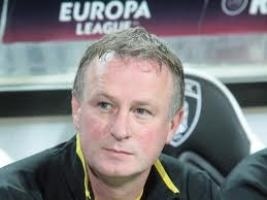 Northern Ireland manager Michael O'Neill.
Q Radio Sport
Northern Ireland will kick off their Euro 2020 qualifying campaign with home games in March against Estonia and Belarus.
Germany will be at Windsor Park in September with Holland here next November.
Mick McCarthy's Republic have a March opener in Gibraltar.
NI boss Michael O'Neill has said the GAWA qualifying group will be "extremely difficult" and the nature of the draw in Dublin on Sunday morning was "hard to take".
The Republic had been drawn out third from pot three, and would have gone into the group with Germany and the Netherlands, but as one of the hosts for the tournament in 2020 they could not be placed alongside two other fellow hosts, with the Germans staging games in Munich and the Dutch in Amsterdam.
.@NorthernIreland Euro 2020 group games all the fixtures at a glance ... #GAWA pic.twitter.com/Jy1FD8U8No

— Q Radio News (@qnewsdesk) December 2, 2018
.@FAIreland kick off in Gibraltar! Mar 23 Gibraltar 🇬🇮 (A) 17:00
Mar 26 Georgia 🇬🇪 (H) 19:45
Jun 7 Denmark 🇩🇰 (A) 19:45
Jun 10 Gibraltar 🇬🇮 (H) 19:45
Sep 5 Switzerland 🇨🇭 (H) 19:45
Oct 12 Georgia 🇬🇪 (A) 14:00
Oct 15 Switzerland 🇨🇭 (A) 19:45
Nov 18 Denmark 🇩🇰

— Q Radio News (@qnewsdesk) December 2, 2018
-