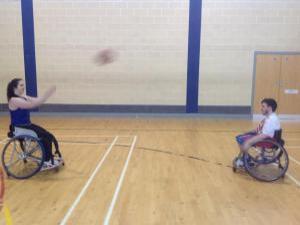 Katie Morrow (left) recently practicing her manoeuvres in Ballymena
In the Rio 2016 Paralympics there's been disappointment for Cullybackey star Katie Morrow.
In the Women's Wheelchair Basketball semi-finals her Team GB were beaten by the USA.
However Team GB still have the chance to medal.
Katie and team mates will face the Netherlands later for the Bronze.
Meanwhile the USA will play Germany to decide the Gold and Silver.