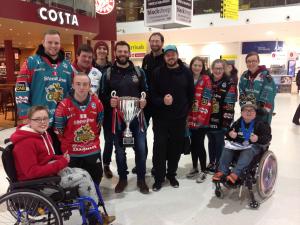 Q Radio Sport
The Belfast Giants have returned home to a hero's welcome after winning their first trophy in four years.
The ice hockey team were greeted by cheering fans at the George Best City Airport on Monday night.
They lifted the Challenge Cup at the weekend, beating Cardiff Devils in Wales for a famous victory.
A GIANT welcome home @BELFASTCITY_AIR for the Cup-winning heroes of the @BelfastGiants ... pic.twitter.com/QYx3sjBvep

— Q Radio News (@qnewsdesk) March 5, 2018
Here's the proud captain Blair Riley...
.@Briles25 on that @BelfastGiants Cup win and that welcome home @BELFASTCITY_AIR - "fans deserve it...amazing!" pic.twitter.com/SJt4DzlNKt

— Q Radio News (@qnewsdesk) March 5, 2018
.@BelfastGiants Challenge Cup celebrations even spilled out into the car park @BELFASTCITY_AIR - never mind the rain! pic.twitter.com/dszLZeHqTg

— Q Radio News (@qnewsdesk) March 5, 2018