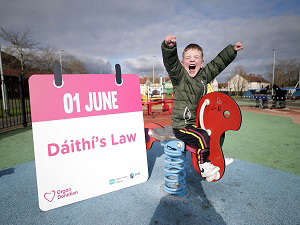 Most Adults here are now considered Donors unless they 'opt out'
By Jonathan McCambridge (PA)
Most adults in Northern Ireland are now considered potential organ donors as Daithi's Law has come into effect.
The Organ and Tissue Donation (Deemed Consent) legislation, named in honour of six-year-old Daithi Mac Gabhann, will change the way consent is granted.
The intent of the new legislation is to increase the current number of organs available to people in need of a transplant.
Adults are now deemed to have given consent as a potential organ donor after their death unless they choose to opt-out or are in an excluded group.
A hot air balloon was launched at Stormont on Thursday at an event to mark the introduction of the new legislation.
Daithi has been on the waiting list for a heart transplant since 2018.
His family have campaigned for a move towards soft opt-out law and to promote organ donation.
Daithi's father, Mairtin, said it was a "momentous day".
He said: "The journey to get to this point has been long and exhausting.
"We have made countless sacrifices along the way, and there were times when we felt like giving up. But we persevered, because we knew that this was a cause worth fighting for.
"Today is a day of celebration. It is a day that we will remember for the rest of our lives.
"But it is also a day to reflect on the hard work and dedication that went into making this happen.
"We have fought tooth and nail to get to this point, and we have done it with love, determination, and a sense of purpose. We plan to continue to spread the message of Daithi's Law and continue to raise awareness of organ donation at any opportunity.
"Today is a day of hope, of love, and of triumph."
Permanent secretary at the Department of Health Peter May said it was a "hugely significant landmark day for organ donation in Northern Ireland".
He said: "More than 140 people are waiting for transplants across Northern Ireland.
"The opt-out system means that all adults in Northern Ireland, unless in an excluded group which includes children under 18 years, those who lack capacity to understand the new law and those who are temporarily resident in Northern Ireland, will be considered to be organ donors after death unless they chose to opt-out.
"Everyone will still have a choice – people are free to opt-in, opt-out or amend their decision at any time – and families will continue to be consulted.
"We know that the vast majority of people here say that they support organ donation in principle, but many people still haven't got round to signing the NHS Organ Donor Register or telling their families.
"By switching to an opt-out system, the hope is that this makes it easier for families to support donation."
Mr May added: "We have already seen increased awareness, discussion and support for organ donation during the law change process and I hope that in time, this will lead to more people saying yes to donation and saving even more lives."
Last year in Northern Ireland, 96 patients received a life-saving transplant from a deceased donor, and NI had 59 donors who enabled 140 life-saving transplants across the UK.
Approximately 10-15 patients die each year in Northern Ireland while awaiting a transplant.
Dr Dominic Trainor, clinical lead for organ donation in NI, explained: "It is only in the unfortunate situation where a person has died in hospital, in specific circumstances, that organ donation is considered.
"As these numbers are very small, organ donation is, and will always be, a precious gift.
"One donor could potentially save or transform the lives of up to nine people. However, there are more patients awaiting an organ transplant than there are organs available.
"As a result, patients often endure many years of illness while waiting for a suitable organ, and in some cases, the call never comes.
"The new law aims to increase the rate of consent and ultimately the number of life-saving organs available for transplantation."