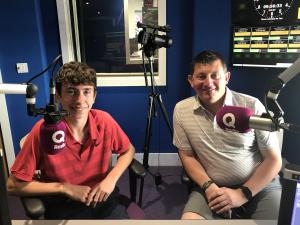 Tom (left) with father Robin at QHQ!
By Simon Hunter
Rising Northern Irish golf star, Tom McKibbin, says he came to the sport by chance, after playing football with a friend almost ten years ago.
Robin mentions how he never envisaged introducing his son to golf, but spotted a spark of brilliance when Tom first picked up a set of clubs.
It's been quite the journey for the 15-year-old, having won the World Kids Championship, and also the inaugural Major Champions Invitational, to name just a couple of global tournaments in the past few years.
His travel schedule frequently takes him to some of the most famous courses on the planet, mingling with international celebrities as his stock rises.
Spotlight on the teenager has increased to such an extent, he's been tipped to follow in the footsteps of the likes of our major champions Rory McIlroy and Graeme McDowell as he aims for a stellar career in the game.
Tom also fulfils an ambassadorial role for the Northern Ireland Children's Hospice, raising the profile of a charity which offers symptom management and palliative care to many young children here.
Tom and Robin came to chat to Simon Hunter during a break in the diary, and spoke about the positive impact of Rory McIlroy and Sir Nick Faldo, the joys of travel, the amazing work of the hospice, a hole-in-one caught by the cameras, plans to move to Florida, the excitement building ahead of the 2019 Open Championship at Royal Portrush, and more!
You can have a listen below!