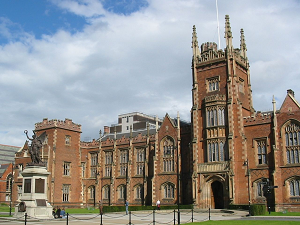 Queen's university
By Q Radio news
Students living less than forty miles from Queen's university are unlikely to be offered accommodation this term.
An email sent to students who'd applied for rooms in the halls of residents were told that demand for accommodation is just too high.
It comes as Queen's students are being offered a £1500 deal - not to take up rooms in university accommodation.
The university provides halls of residents for about 3,500 students each year.
Ellen Fearon, president of NUS-USI says the clock is now ticking for students to find somewhere suitable to live.
"This is not something which has come out of the blue – Northern Ireland has been dragging its heels on providing adequate and affordable student accommodation for years, which is why we see large areas with crowded, substandard housing dominated by intimidating landlords.
Students need urgent reassurance that they'll have a roof over their head for the upcoming year, and to nip this ongoing sense of panic and uncertainty in the bud.
"We need to see a resolution to this before the start of term – one which offers students accommodation which is suitable to their needs.
If that isn't provided then we need to seriously review the justification of charging students thousands in tuition fees if basic planning like accommodation provision cannot be met."
Students living less than forty miles from Queen's university are unlikely to be offered accommodation this term.https://t.co/kJjzdpp5xl

— Q Radio News (@qnewsdesk) September 16, 2021