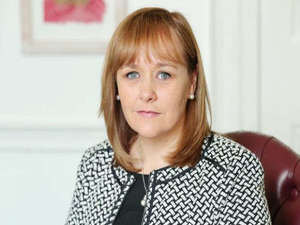 Stormont Education minister Michelle McIlveen
By Q Radio news
MLAs are currently debating a motion expressing concern with reports of pupil absences due to the COVID-19 situation in schools.
The Assembly recall was proposed by Sinn Fein after headteachers reported chaos around contact tracing and isolation guidance.
The Public Health Agency is now set to take over contact tracing in schools to ease pressure on teachers.
Education Minister Michelle McIlveen was in the chamber as Sinn Fein MLA Nicola Brogan opened the debate, saying she has been "inundated" with "grave concerns" from principals, school leaders, teachers, parents and pupils.
She said they are facing "huge disruption to education and daily life because of the poor planning and preparation of our education minister".
MLAs are currently debating a motion expressing concern with reports of pupil absences due to the COVID-19 situation in schools.https://t.co/0excO6AQU0

— Q Radio News (@qnewsdesk) September 9, 2021
Ms Brogan said that, at Larne High School, 400 out of 700 children had had to stay at home due to Covid-19.
"Within days of trying to implement the minister's restart, teachers are reporting difficulties of keeping children safe and in school, and the scale of the disarray became increasingly more apparent," she said.
Ms. Brogan claimed Education Minister Michelle McIlveen was "shamed" to act on the "eve of this debate".
"Although this move is certainly welcomed, we must make sure that these duties are carried out correctly with the PHA and that the burden is removed from principals and school leaders," she said.
Ms Brogan added: "We all know the importance of children attending school, we all want pupils in school and the classrooms to be up and running but we also know that schools need proper support to remain open safely during the pandemic."
SDLP MLA Daniel McCrossan also backed the motion which calls on the Stormont Assembly to formally note its concern at the situation.
He said schools, teaching staff and principals are facing "crisis conditions" and "patience is wearing very thin as they continue to be expected to work under increasingly intolerable conditions".
"One principal at 6pm yesterday sat in tears with me for an hour at breaking point, a person that I consider to be very very strong that can almost handle any situation, forced into a very difficult position by the pressure burdened on her by the current guidance in its current form," he told MLAs.
"These principals are required to be experts in Covid-19 tracking and tracing while also delivering the highest teaching standards, as expected.
"It is painfully clear that once the level of infections in the community reaches certain points, schools cannot do both jobs in teaching and mitigating against a difficult situation.
"In recent days we have reached and exceeded that point where our minister and the department have failed to act to repair the situation quickly enough with the exception of the PHA moving in more recent hours.
"It took overwhelming pressure from MLAs of this House, parents and the media to force the hand of the DUP minister once again."
Responding, Education Minister Michelle McIlveen said everyone wants children to be able to "access their education in a safe environment".
She described the current high community prevalence of Covid-19 in Northern Ireland as leading to increased numbers of cases in schools and of close contacts.
"This has resulted in major disruption to children's education," she said.
"We have worked very hard to minimise the impact on pupils.
"I also recognise the challenges faced by families in having to manage children being out of school, either ill or self-isolating.
"It has to be a priority for all of us to have children in school where we all agree they should be."
Ms McIlveen said schools were provided with advice from both her department as well as the Public Health Agency on close contact and self-isolation and testing processes.
"My department's guidance reflected the agreed Executive position that is based upon expert medical and scientific advice," she said.
"The guidance itself was the subject of detailed engagement with officials from the Department of Health over the summer and took account of their views across a number of areas.
"My officials also worked closely with the Practitioners Group of school leaders, and maintained engagement with trade unions
"The department's guidance seeks to move away from the position where school leaders and staff were required to follow a detailed list of prescriptive requirements, often telling principals what either 'must' or 'cannot' happen in their school.
"This reflects the progress and the learning that we have all had in society in areas such as using face coverings, hand hygiene and testing since the start of the pandemic.
"This guidance also seeks to take advantage of the experience that has been developed by schools over the last 18 months."
Ms McIlveen said the decision for the Public Health Agency (PHA) to take over Covid-19 contact tracing in schools was agreed due to the current high infection rates in Northern Ireland.
"Both the Department of Health and the Department of Education have recognised that the administrative burden on teachers is not sustainable," she said.
"It was against this backdrop that my department has agreed with the Department of Health that schools would no longer be required to carry out the PHA's contact tracing work, and only in certain circumstances will a school be asked to assist
"This more targeted approach, which will begin on Friday, will involve PHA contact tracing service identifying and asking the very closest contacts to isolate and get a test. Other contacts in school – such as those in the same class or who sit near the case – will not routinely be asked to isolate and book a test.
"School leaders will no longer be required to respond to every case and identify contacts. PHA will undertake the work and will only contact the school principal for assistance in limited circumstances."
She described the move as "in line with the position being taken in schools in England, Scotland and Wales".
Ms McIlveen concluded her speech to the Assembly saying she remains concerned about the impact of the pandemic on children.
She said she is "assured" that "the more targeted approach to contact tracing that has been agreed will result in fewer pupils having to self-isolate unnecessarily and the range of mitigating measures will continue to ensure pupils are safe in their school environment, learning and socialising with their friends, as they should be".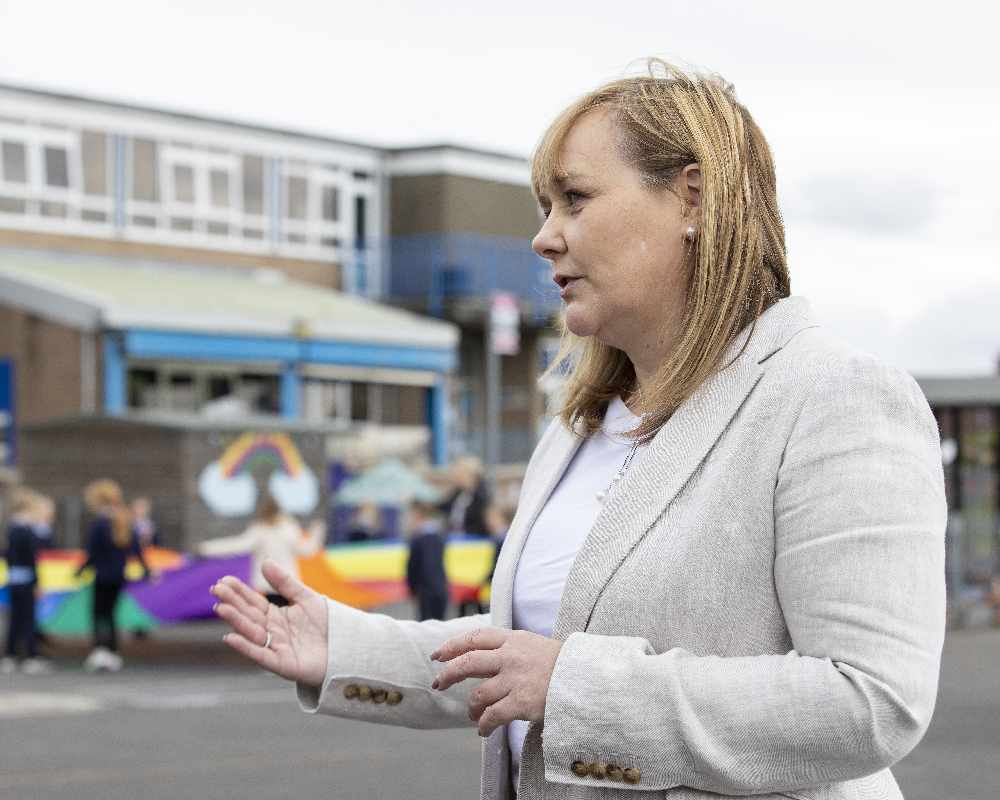 (Stormont Education minister, Michelle McIlveen)