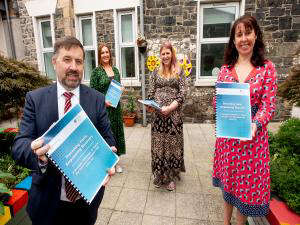 By Q Radio News
The Health Minister, Robin Swann, has launched a new drugs and alcohol strategy to end the harm linked to substance abuse in Northern Ireland.
It comes as the Chief Medical Officer confirmed that the Department of Health is also looking at proposals for a minimum unit price for alcohol.
Speaking during a visit to the Recovery Garden in Ards Community Hospital, the Minister said: "The aim of this new strategy is to prevent and reduce the harm related to substance use in Northern Ireland.
"The strategy has been co-produced by my Department, working in partnership with key stakeholders, both inside and outside government, including service users and their families. I would like to thank all those who have helped us to get this strategy finalised.
"The fact that my Department has pushed forward with this work in the middle of the COVID pandemic is a reflection of the importance we place on tackling the harms around substance use.
"We are continually reminded of the suffering and tragedy that alcohol and other drugs cause to individuals, families, and communities across Northern Ireland.
"The cost of alcohol-related harm alone is estimated to be as much as £900 million every year. Add in the cost of the harms from other drugs and the figure is well over £1bn annually."
Mr Swann added that cross-departmental working was essential to reducing the harm related to alcohol and drug use.
He said: "The harms arising from, substance use are not something that can be tackled by the Department of Health alone.
"They are multi-faceted problems that exist across the whole of our society – poverty and deprivation; homelessness; employment and economic development; mental health and trauma; paramilitarism, community relations and justice; educational attainment, inequalities; and the legacy of the past. Tackling these societal issues will require the whole Executive to operate collectively."
The new 10 year Substance Use Strategy "Preventing Harm & Empowering Recovery: A Strategic Framework to Tackle the Harm from Substance Use" comes into force today.
Supporting the strategy, the Chief Medical Officer, Professor Sir Michael McBride said: "Over the past ten years, we have seen a significant change in the patterns of use of alcohol and other drugs, including an increase in polydrug use, the continuing misuse of prescription medicines, and hazardous alcohol consumption among some groups.
"We must also consider the impact that COVID-19 has had on certain groups increasing their alcohol intake above safe levels.
"We must therefore be open to the need to explore new ways to tackle this societal crisis we are caught in.
"That is why, as well as the vital work of implementing this strategy, the Department will also now begin to take forward work on Minimum Unit Pricing for Alcohol with a view to having a full public consultation to determine whether this population health measure should be introduced in Northern Ireland."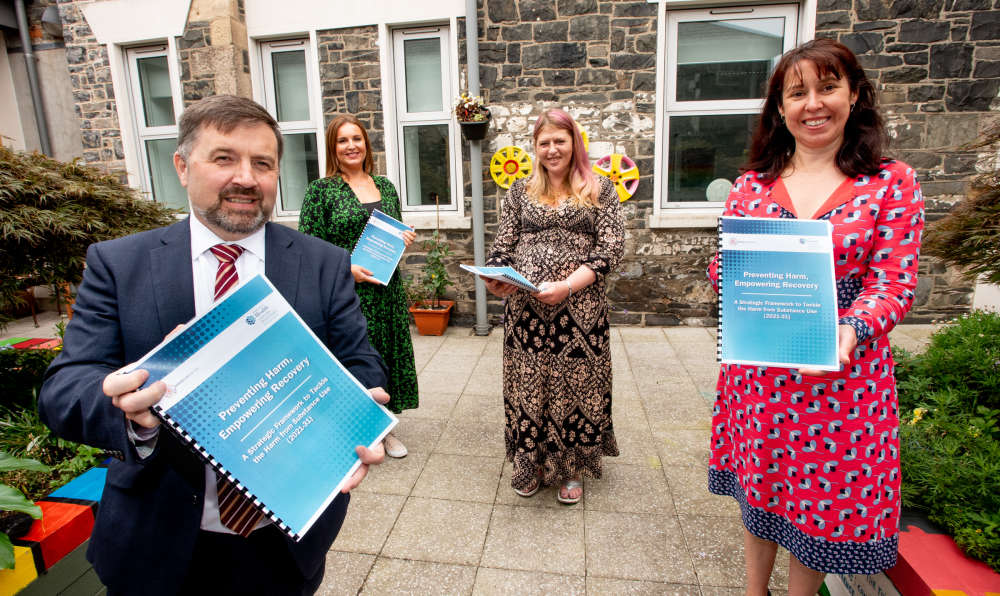 (Pictured at today's launch are (l-r) Health Minister Robin Swann; Sonya Johnston, Acting Addiction Services Manager; Lynsey Graham, Service User and Roisin Coulter, Chief Executive for South Eastern Health and Social Care Trust.)