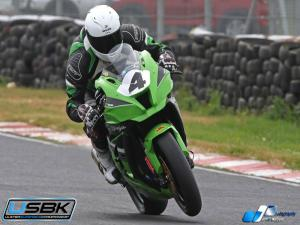 By Q Radio Sport
Racing has ended at the Ulster Superbike Championship at Kirkistown in county Down .
A rider was taken to hospital following an earlier crash and a number of other non-serious red flag incidents delayed things slightly.
The latest results are:
1st Peter ONeill / Alvin Griffin
2nd Dylan Lynch/ Mark Gash
3rd Terry Oreilly / Brian Butler
Event 14
Superbikes Pro race 2
1st Gerard Kinghan
2nd Ryan Gibson
3rd Aaron Armstrong
event 8
Supersport Pro Class race 1
1st Jason Lynn
2nd
Korie McGreevy
3rd Robert Kennedy
event 6&7 (run concurrently) after red flag incident
Supersport Cup Class race 1 restart 4 laps
1st Kevin Lavery
2nd
Kyle Walsh
3rd Lee Chambers
Superbike Cup class race 1 restart 4 laps
1st Trevor Matthewson
2nd Adam OBoyle
3rd Lee Cairns
Event 4 Lightweight supersport and moto 3 (run concurrently)
race 1
Lightweight SS - 400
1st Darryl Tweed
2nd Gary McCoy
3rd Mark Gamblin
Moto 3/ 125gp
1st Paul Robinson
2nd Melissa Kennedy
3rd Andrew Cairns
Classics event 3 (4 classes in one race)
Race 1
1000cc winner Alistar Henry
250cc Winner
Brian Mateer
350cc Winner James Conroy
500cc Winner Alex Conroy Honda 1.12.59
Event 2 (Twins classes run concurrently).

Supertwins Race 1
1st Joe Loughlin
2nd Sean Oneill
3rd Robert Kennedy
Production Twins Race 1
1st Jonny Hanna
2nd Kevin Lavery
3rd Adam Crooks

Junior Cup Race 1
1st
Jonny Campbell Kawasaki
2nd Cameron Dawson Kawasaki
3rd Jamie Lyons Kawasaki
Young Guns Race 1
1st
Josh Rae Aprilla
2nd Alex Duncan Aprilla
3rd Ross Eastall Aprilla
event 11
Junior Cup Race 2
1st Jonny Campbell
2nd Cameron Dawson
3rd Jamie Lyons
Young Guns Race 2
1st Josh Rae
2nd Alex Duncan
3rd Ross Eastall