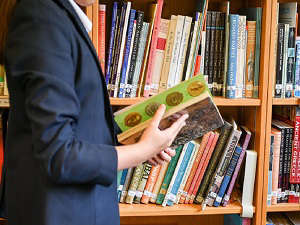 By Jonathan McCambridge (PA)
Libraries in Northern Ireland will not be able to buy any new books this year due to the Stormont funding crisis.
A representative from Libraries NI said the service was disappointed at the situation that has arisen but said there is simply not the funding to buy new stock.
Libraries in Northern Ireland receive funding from the Department for Communities.
Like all the Stormont departments, it has warned that it is facing a funding crisis following a budget set earlier this year by the Northern Ireland Secretary Chris Heaton-Harris.
The department has previously said it is facing a £111.2 million resource funding gap, which would result in a reduction in services.
Sean Beattie, Libraries NI head of service for the south and east area, told the BBC Talkback programme that there would be no new books available in libraries this year.
He said: "When your budget is reduced to the extent that has happened to us this year, you are faced with making difficult decisions.
"At the present time we just don't have the funding to buy any new books."
"It is really disappointing, especially at this time of year because we are right in the key part of the publishing year when there are loads and loads of brilliant new books coming out.
"In normal years we would have bought them. Readers have their favourite series, they have their favourite author and look forward to reading them and to getting them from the library service.
"It is doubly disappointing at this time of year not to have the money available to go out and buy these books."
Mr Beattie said donations from customers would not match the number of new books usually provided by local libraries.
He said: "We do have some of our borrowers who do donate books to us, unfortunately the scale of the donations that come in wouldn't match the need of our readers.
"We have 96 libraries, we are going to issue probably close to four million loans this year with our existing book stock.
"The turnover of the books means a couple of hundred donations, or even a couple of thousand donations wouldn't match the number of books that we would normally buy year on year.
"Whilst, we haven't got any new books, and new books are really important for bringing borrowers in and keeping them coming back to the library, it is not to say that libraries don't have any books. Libraries are full of books."
Mr Beattie said the freeze on buying new books would also apply to audio books.