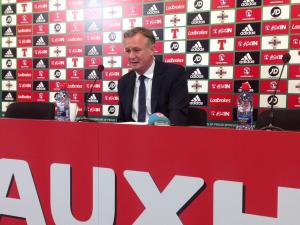 By David Hunter
Northern Ireland are still waiting to secure a World Cup play-off spot following last night's 3-1 defeat at home to Germany.
They're already guaranteed second place in Group C and know a draw in Norway on Sunday should put them over the line.
Other results going their way over the next couple of days could also help.
The German's sealed a place in Russia with their victory in Belfast last night, with England also going through.
Michael O'Neill's men travel to Norway on Sunday for their final qualifying match.
"We look forward to the Norway game. We'll be a bit clearer obviously after the round of fixtures for the other teams as well. But if we need to get something in Norway, I'm sure we'll get it." Said O'Neill.
.@NorthernIreland scorer @Josh_Magennis thanks @G23mcauley for his assist in goal v @DFB_Team_EN ! #GAWA #NIRGER pic.twitter.com/O2sl8o36Nz

— Q Radio News (@qnewsdesk) October 5, 2017
Speaking after the game last night the manager continued: "I don't have four players from Bayern Munich sitting on my bench so it's not as easy for me to rotate my squad as it is for other managers.
"There is a real importance to the fact that we have to make sure the result in Norway goes our way."
"This side showed a great spirit in the second half and we thoroughly deserved that goal at the end. I just hope we can keep that style of playing going"
Northern Ireland are aiming to finish among the best eight of the nine group runners-up but need a point on Sunday to make the play off's.
If they qualify for Russia they'll find out thier opponents in a draw on 17th October.