Q Radio Sport
A Banbridge beautician has become the first woman in Northern Ireland to reach the incredible milestone of running 250 marathons.
Elaine McAnulty hit the landmark at the weekend event in Greenisland.
It's all for charity and donations can be made on the JustGiving page - Elaine's 250th marathon. Now after almost 20 years on the road, there's a new target - 300 by next year!
It all kicked off in 2004 with Elaine's inspiration "just trying to get a bit of fitness, lose a bit of weight."
Things escalated as she became part of the sporting community of Marathon Club Ireland and Marathon Club UK and found out there was an award for 25 marathons.
After achieving that goal, then picking up a glittering array of other honours along the way it's now a massive 250 on the horizon.
She said at one point filling in a form for Marathon Club membership there was a question: "Do you aspire to complete 100 marathons?" She thought "who in their right mind would do 100 marathons!"
But she ticked the box in case her membership was refused. Now she's a highly-respected name on the circuit.
It's the culmination of years of hard work, with weekends dominated by marathons. Elaine adds: "The most I did in a year was 67 - and I was raging I didn't get to 70!"
Elaine's first marathon was Belfast.
Over the past 18 years she has gone the distance - 26.2 miles - in eight countries - Northern Ireland, the Republic, England, France, Germany, USA, Spain and Bahamas, with number nine Austria coming up next month.
It's been quite a journey, with a couple of trips to the Bahamas living long in the memory...
Elaine explains: "The first time I ended up off the road in coral sand, cut to ribbons, bandaged up, both my hands - and I still have part of the Bahamas gravel in my left thumb, a nice souvenir!
"The next year, back to do it again and going through Miami Airport, I tripped and fell over the top of the suitcase, breaking my shoulder and cheekbone. That was on the way there!"
There's no stopping her though - nine days later she battled through the pain barrier and managed to complete the marathon.
Husband David accompanies Elaine to some of the events and has done 24 marathons himself - the ex-Irish international hockey star prefers shorter distances, faster runs. Elaine says "I'm the tortoise!"
David's a huge supporter though and a key player in organising her hectic schedule.
Charity is the big winner, with thousands raised for worthy causes, including Cancer Focus NI. Donations can be made via JustGiving - https://www.justgiving.com/fundraising/elaine-mcanulty250
Elaine completed 20 marathons in 20 days in 2020 in a special lockdown effort for the organisation, raising more than £3,500. They weren't official events and are not included in the current total of 249!
For all the international travel, one of her favourite events is close to home - Dublin. "It's just the support, the crowds come out, streets are lined, 20,000-plus taking part," said Elaine.
"For Dublin to host something like that is fantastic. The support the whole way along the road is amazing; definitely one of my favourite ones."
As well as running marathons, Elaine also has her work cut out running a successful business - The Retreat Beauty Salon.
"I could have had my 250th the previous Saturday in County Carlow but the good weather, the salon's busy, then it's the day before Mother's Day so we sell a lot of gift vouchers - you have to get your priorities right, I just had to be in work that day."
She is still going strong and has no intention of stepping down.
"As long as you stay injury free, why not keep going? One of my friends, Collette O'Hagan, is around the 800 mark so it gives you something to chase after.
"She's 72 and from Dundalk and holds the women's record for the island of Ireland.
"This will be the first 250 for Northern Ireland - but I've still a long way to go!"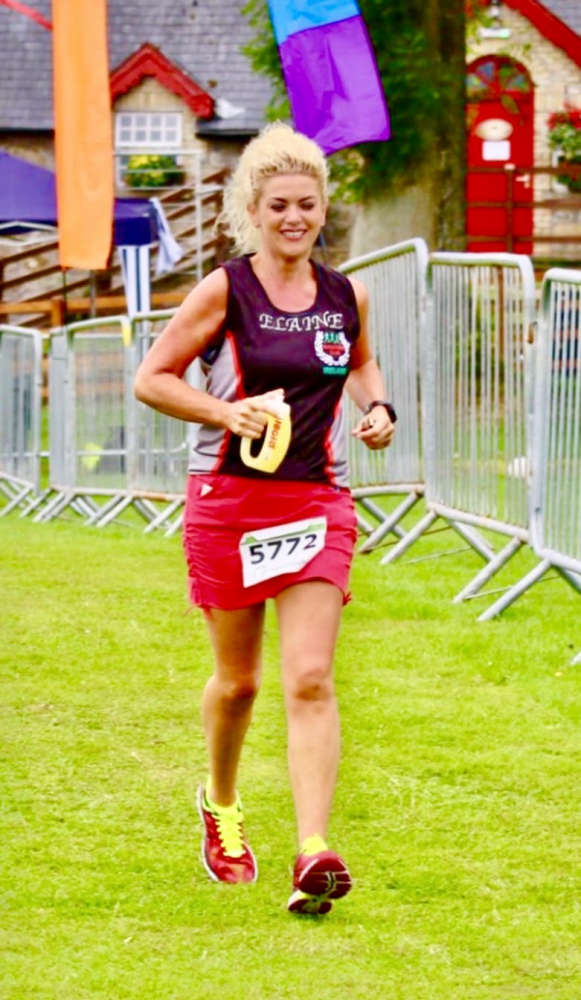 Elaine McAnulty