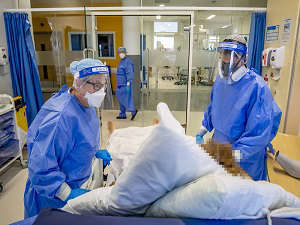 By Q Radio News
Four more people have died with Covid-19 in the past 24 hours.
A further 2,954 people have tested positive for the virus.
However, case numbers no longer reflect the spread of the disease in the community as people who have a positive lateral flow test are not required to take a confirmatory PCR test.
There are 402 people in hospital with 30 of them in ICU.
Of those 30 people receiving specialist care in ICU, 25 are being ventilated.
Eight hospitals are operating over capacity.
The age group with the highest percentage of people getting a positive result in a PCR test is 35 to 39 year olds.
The death toll has reached 3,035.
There are outbreaks in 215 care homes.