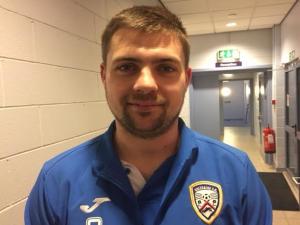 Late goal scorer James McLaughlin
QRadio sport
Linfield will play Coleraine in the Tennent's Irish Cup final on the sixth of May after both teams secured late winners in yesterday's semi's.
Stephen Lowry missed a penalty for the Blues, but then struck in the 89th minute to give them a 1-0 victory against Dungannon Swifts at Mourneview Park.
Coleraine beat holders Glenavon 2-1 in Ballymena with substitute James McLaughlin heading the last-minute winner.
It was his first goal against the Lurgan Blues after scoring against all the other Irish League teams.