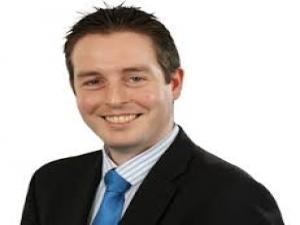 The Communities Minister was talking to Q Radio Sport about the record number of Northern Irish athletes at the Paralympics
"We punch above our weight in many of our sports, not least boxing" joked the Communities Minister Paul Givan when asked about Northern Ireland's tendency to turn out world class sportspeople. "Now we have these athletes heading out to Rio for the Paralympics".
Paul Givan's department is responsible for sport in the province, and he praised both government funding and volunteer work as helping Northern Ireland produce so many athletes. The Minister praised the numerous sports organisations that organise grassroots sports, "they're getting in there and identifying young people, getting them active and really pushing them on in their careers" he said.
Givan also spent time with some of the Paralympians such as Bethany Firth. Firth won gold in the backstroke in London 2012 for Team Ireland and now competes for Team GB. "She's up at four o'clock every morning" said Givan on Bethany's training regimen "the only day's rest she had was Christmas Day. These are Olympians who put in a huge effort."
Incredible athletes competing in the Rio Paralympic Games. I know they'll do us proud #RioParalympics2016 https://t.co/ZyPpHzV4GY

— Paul Givan (@paulgivan) September 6, 2016
The department is looking beyond Rio, with funding already in place for the 2020 Games in Tokyo "Already there's commitments investing in particularly disability sports over the next four years with Sport NI" said the Minister "We're targeting those elite athletes and grassroots level sports"
Givan said that there is 'around £1million' being put into sport and there was a commitment to make sure the money was put into the right places.
Paul Givan tells Q Radio about the funding available:
The funding should come as good news. Sport has always been vital to Northern Ireland, going back as far as George Best and Barry McGuigan it's been something that has so regularly united the province. "Sport has that capacity to bring communities together." said Givan "all of the country are backing them, some competing for Team GB some competing for Team Ireland. Lets hope they return with some medals"
Given praises sports ability to unite the province:
Here's the schedule for #TeamIreland for Day 1! #MoreThanSport #Paralympics (Irish time) pic.twitter.com/12CZ6egFS6

— Paralympics Ireland (@ParalympicsIRE) September 8, 2016