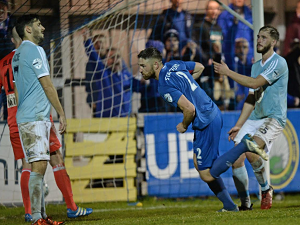 By Q Radio Sport
Linfield say the controversial red card issued to Mark Stafford in last night's League Cup defeat at Crusaders has been rescinded.

The defender was dismissed in the second half at Seaview following a challenge with David Cushley.

Initially, the Crues player was sent off, but the referee reversed the decision after consulting an assistant.
The Blues say while they welcome the Stafford reprieve they "can't continue to tolerate a situation where the outcome of crucial games is being so heavily influenced by obvious mistakes from officials."

The Windsor Park club has issued a statement calling for a full review of refereeing by the Irish FA with "a significant investment" to help improve standards in the future. Here it is in full -

Statement from Linfield Football Club

Following the controversial events of last night's League Cup quarter final tie against Crusaders at Seaview, Linfield Football Club wishes to put on record its extreme disappointment that yet another significant error by officials with vital implications has gone against the Club.

In recent weeks we have witnessed costly mistakes by match officials at Coleraine and Ballinamallard, resulting in either the loss of league points or unwarranted disciplinary sanctions against a player. Those mistakes follow on from a series of refereeing errors during the course of last season, including a well-publicised incident at Glenavon, which cost the Club points. Whilst one of the red cards issued on that occasion was later rescinded, a very damaging and obvious mistake had already been committed by one of the refereeing team.

The Club recently highlighted the fact that incorrect decisions in professional football can have costly consequences and called on those involved in running the local game to make every effort to improve standards and increase confidence in those officiating at our games.

The bizarre incident at Seaview on Wednesday evening has further heightened this Club's lack of confidence in our match officials. Linfield acknowledges that refereeing can be a thankless task at times, but Northern Irish football needs match officials that can perform to the increasingly high standard that the public expects of players and teams in NIFL competitions. Whilst we acknowledge that last night's referee has belatedly accepted his mistake in this instance, and that the dismissal of Mark Stafford has been rescinded, we cannot continue to tolerate a situation where the outcome of crucial games is being so heavily influenced by obvious mistakes from our match officials.

Linfield Football Club calls on the IFA's Referee's Committee to urgently examine these incidents and to ensure that those involved are held to account for their actions. We further suggest a full review of refereeing be carried out by the IFA in order to put clearly needed plans in place to improve the quality for the future. This will require a significant financial investment to deliver the required outcomes.