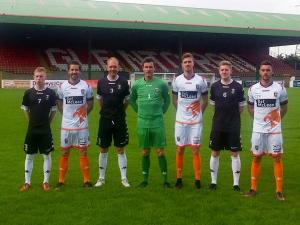 Glens players gear up to go to Detroit. Image credit: Glentoran Gazette
Q Radio Sport
Glentoran are in the USA to play a special commemorative match today.

They're going up against Detroit City to mark the 50th anniversary of a Glens team competing in a tournament that helped to launch professional football in America.

The east Belfast side represented the city of Detroit and took the name the Detroit Cougars.

Here's Glens chairman, Stephen Henderson.


Glens manager Gary Haveron says players, fans and officials can feel a real sense of history about the trip.


Next stop Detroit. https://t.co/ek5IrD6M5h

— Glentoran FC (@Glentoran) May 25, 2017

Two heroes of John Colrain's 1967 Cougars team have travelled with the Glens party to Michigan - Tommy Jackson and Billy Sinclair.




Current Glens goalkeeper Elliott Morris says it's an honour to follow in the footsteps of such legends.




The match will mean a dream debut for three new signings, all highly-rated young players.

Coming up in this order are John McGuigan, back at the Oval for a second spell, Corey McMullan and then Daniel Kelly.