Q Radio Sport
The Northern Ireland Football League is to extend its Covid-19 testing programme for Premiership players and officials.

It started in January for an initial four-week period and will now run for another month.

NIFL says the extension has been made possible by contributions from Linfield and Coleraine, who represented the league in European competitions this season.
The NI Football League confirms Covid-19 testing for Premiership clubs and officials has now been extended.#DanskeBankPrem

NIFL statement: pic.twitter.com/rBJCmIRWxh

— Q Radio News (@qnewsdesk) February 11, 2021
There's also been generosity from the Glens this week:
It's been a tough time for us all over the past year, including our sports stars.

But it has not stopped clubs across the codes stepping up to play their part for the local community.

Like Irish Cup champions @Glentoran - winners on and off the pitch.👇

Well done #GFC 👏 👏 https://t.co/4FxNBfP50j

— Q Radio News (@qnewsdesk) February 10, 2021
Another full set of fixtures is scheduled for Saturday, weather permitting.
But there's already a pitch inspection called for 10am at Ballymena.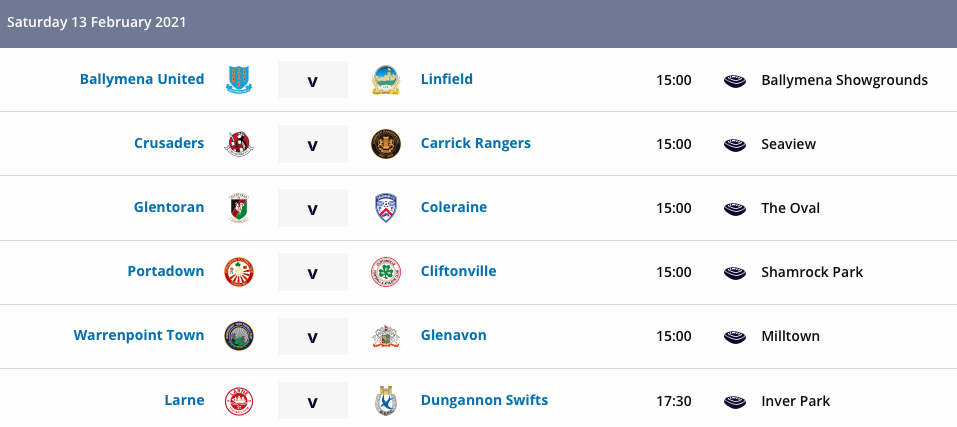 And here's a look back at mid-week with the latest standings:
Late drama at the double in East Antrim as the top two are held - by battling basement clubs. Comfortable for Cliftonville, but they have Jamie Harney sent off, along with Warrenpoint's Danny Wallace.

Three games postponed due to frozen pitches.#DanskeBankPrem pic.twitter.com/vudhLVdunb

— Q Radio News (@qnewsdesk) February 9, 2021