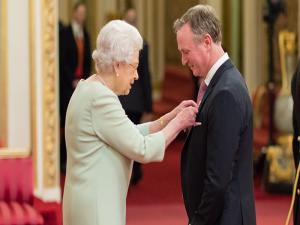 By Catherine Wylie, Press Association
Northern Ireland manager Michael O'Neill talked football with the Queen as he was appointed an MBE at Buckingham Palace.
The green and white army boss was recognised for services to football and to the community in Northern Ireland.
O'Neill, who is from Ballymena but lives in Edinburgh, said the Queen remarked on how well Northern Ireland performed at Euro 2016.
He told the Press Association: "All the people at the palace have made it very easy for us, very welcoming, and done it with a nice sense of humour as well.
"And a few words from the Queen who had said we had done very well in the summer, and I said how it had been such a positive thing for Northern Ireland, and she was aware of that, and she said that was great, and just to keep doing it."
Asked if the Queen seemed to be a football fan, O'Neill said: "A little bit. She knew enough about what we had achieved and what we had done."
The football manager said the honour was "a very personal thing", adding: "It's a lovely day for me, for the family. It's something that I didn't expect at all to be honest. It's just something that's very special."
Football fans from across Ireland were honoured for their sportsmanship during Euro 2016 by the mayor of Paris.
Anne Hidalgo offered the city's most prestigious award - the Grand Vermeil - to fans from both Northern Ireland and the Republic.
The Northern Ireland fans won hearts across Europe during the tournament, with supporters introducing anthem Will Grigg's on Fire to the masses.
O'Neill said his team's fans gave "amazing support", adding: "I think other supporters almost marvelled at how much support we got for such a small country."