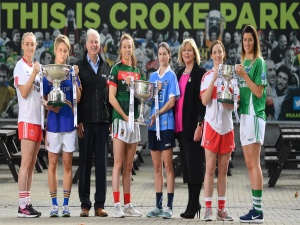 by Gráinne Connolly
This Sunday, 24th September, the Ladies All Ireland Finals take place at Croke Park.
Dublin will be defending their Senior All Ireland title as they take on Mayo.
Meanwhile, 3 Ulster teams will be representing in both the Intermediate and Junior All Ireland Finals; Tyrone, Derry and Fermanagh.
Tyrone play Tipperary to contest the Intermediate title.
The last time the red hands were in a final was 2010 against Dublin, when they ended as runners up.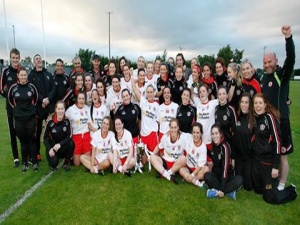 (Tyrone ladies squad and management)
There has been controversy and debate surrounded around the Tyrone All-Ireland final and fixtures for Senior club championship games.
The Senior men's games were scheduled for the same time and day as the ladies All-Ireland football.
This sparked discussions of sexism and discrimination against women's GAA, as this wouldn't be the case if the roles were reversed.
Despite the games not being re-fixtured, as many local fans have been encouraged to support their Tyrone ladies:
Tyrone and Tipperary's starting squads are linked below:
On the same day, Derry and Fermanagh will battle it out in the Junior final.
Both teams have come a long way in the past 12 months.
Fermanagh didn't win a single game last year and ended up conceding their last game as they only had 15 players.
Whereas, Derry only won one out of seven of their league games, yet both Ulster sides have made it to the final.
Linked below is the starting panel for the Derry and Fermanagh teams:
Time fixtures, Croke Park, Sunday 24th September:
TG4 Junior All Ireland Final
Derry v Fermanagh, 11:45pm

TG4 Intermediate All Ireland Final
Tyrone v Tipperary, 1:45pm

TG4 Senior All Ireland Final
Dublin v Mayo, 4:00pm