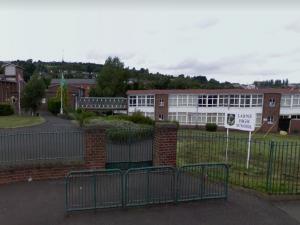 By Q Radio news
A mobile testing facility will be operating today at Larne Leisure centre.
It follows yesterday's news that 400 pupils at the local high school missed classes because they had come into contact with someone with Covid-19
The testing facility will open from 9am until 3pm today (Tuesday).
When pupils are off school as a close contact, they have to take a Covid test on day two of their absence.
If it is negative they are allowed to return to school but have to take another test on the eighth day after contact.
A mobile testing facility operating at Larne Leisure centre will remain open today until 3pm.https://t.co/2ESqchXJfE

— Q Radio News (@qnewsdesk) September 7, 2021
There have been reports of long queues at some Covid testing centres in Northern Ireland, with some facilities struggling to accommodate the number of students requiring a test to return to school.
First Minister Paul Givan said there were concerns that some schools were taking a "blanket approach" to self-isolation.
He said: "It is a concern if there are some schools which are deciding to go against public health advice because we have moved on from the requirement for a universal 10-day period of isolation.
A blanket approach being taken to pupils, I don't think that is appropriate."
But Sinn Fein MLA Pat Sheehan said there was a "lack of clear Covid-19 guidance for schools".
He added: "The Education Minister needs to give clear guidance and put in place the necessary resources to support our school staff in keeping schools open.
"I have initiated a recall petition to ensure that the Education Minister comes to the Assembly and sets out exactly what the Department of Education will do to support schools."
The Executive meeting, which was delayed from last week after deputy First Minister Michelle O'Neill contracted Covid, heard that the number of positive cases in Northern Ireland has begun to decline in the last few days, and that hospital admissions are expected to begin to decline.