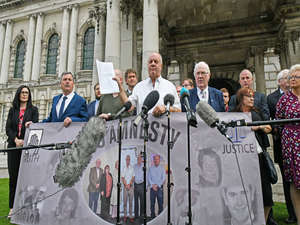 By Q Radio news
Boris Johnson has been warned that his proposals for a so-called amnesty in Northern Ireland risk creating a "new Troubles", with fears over "revenge attacks".
Families of Troubles victims arrived at Westminster earlier today to outline their opposition to proposals to introduce an 'amnesty' for legacy killings.
Campaigners from all sides of the Troubles divide presented a letter at 10 Downing Street to the Prime Minister, branding plans for a statute of limitations as "immoral".
One of those present at Downing Street was Raymond McCord whose son Raymond Junior was murdered by loyalist paramilitaries.
He said:
"Our aim is twofold.
"Firstly it is to stop these disgusting insane proposals and secondly to highlight what victims and survivors really want.
"Investigations, prosecutions, inquests and civil and legal actions must remain, and there can NO AMNESTY for murder.
Victims campaigners travelled to London today to meet with MPs to vent their anger at Boris Johnson's proposed NI Troubles amnesty plan. pic.twitter.com/aSJ4SL7BKO

— Q Radio News (@qnewsdesk) September 6, 2021
"They are not for negotiation.
"The message and focus is simple, The present and future governments must allow proper due process according to the law to take place.
"Murder is murder and a crime irrespective of who is involved.
"Brandon Lewis has not spoken to or contacted anyone of us victims going to London and neither him or Boris Johnson speak on behalf of the thousands of victims and families these proposals will affect.
"It is clear they havent listened to the victims.
"The British government is not sincere in claiming they are helping victims and families whose loved ones have been murdered.
"Bluntly they have lied to us and the public.
"They are trying to block and eradicate truth and justice for victims rather than help us.
"Logs and files of the security forces have disappeared relating to bombings and murders with cases of murders closed down for up to 60 years by the government enabling the government to hide their own involvement.
"Secretary of State Brandon Lewis how does these actions help victims move on? How does it bring truth and justice?
"Deliberate delays by state agencies of up to 50 years for inquests does not help victims move on.
"Brandon Lewis claims the mechanisms in place aren't working.
"The reason being, the State agencies and successive governments have done everything to ensure they don't work, Ballymurphy and Loughinisland proved that.
"La Mon House bombing and Kingsmill are further proof of the state's failures which they wish to hide.
"Finally we victims know why the government want to pass these insane justice dismantling proposals, Its to prevent and hide the British government's and security agencies involvement in murders and with terrorists in the pay of the state.
"It's certainly not to help victims move on."
North Belfast MP John Finucane joined victims families at Westminster today to support their campaign of opposition to Boris Johnson's proposed amnesty for legacy killings. pic.twitter.com/VIb1PlsiFQ

— Q Radio News (@qnewsdesk) September 6, 2021
Julie Hambleton, whose sister was killed in the IRA's Birmingham pub bombings, said the Prime Minister risked sparking a new chapter of violence.
Speaking outside Downing Street on Monday, Ms Hambleton, who founded the Birmingham bombings campaign group Justice for the 21, told PA news agency the Government's intentions were "utter madness".
She added: "We've heard whispers that this could create a new Troubles, because if the Government isn't prepared to keep the legislation that is already in place for murderers, then they will seek to get their own revenge.
"I think there could be revenge attacks. There could be vigilantes."
Along with Ms Hambleton and Mr McCord, the other signatories of the letter included Cathy McIlvenny, whose sister and nephew were killed by loyalists; Michael Gallagher, whose son was killed in the Real IRA's Omagh bomb; Eugene Reavey, whose three brothers were killed by loyalists; and Billy McManus, whose father was killed in the loyalist attack on Sean Graham bookmakers in Belfast in 1992.